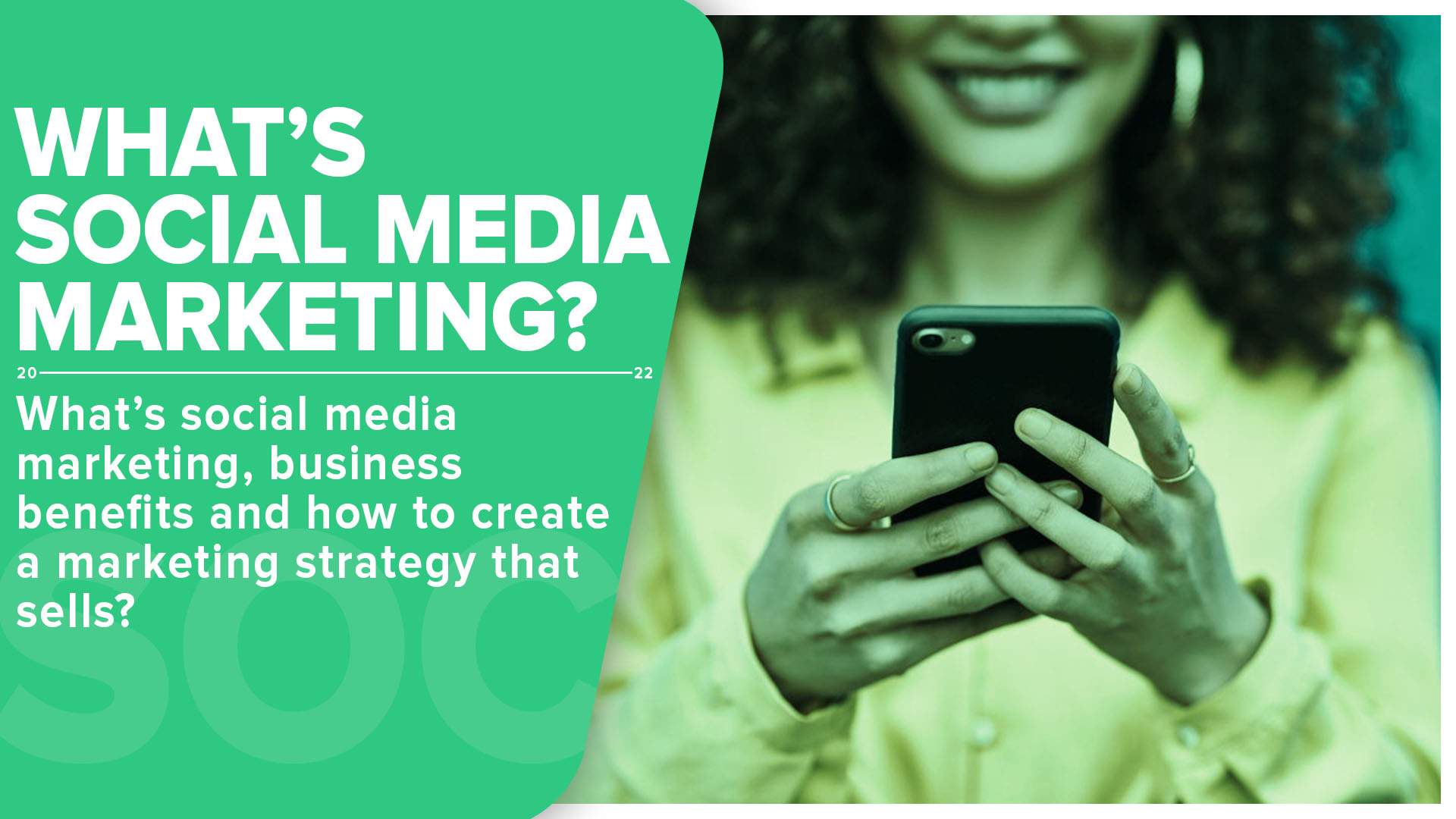 Looking back several decades ago, most of the brands did their marketing more in traditional ways. Launching a newspaper campaign, sending postage fliers around the neighborhood, or starting an advertising campaign on radio or television.
However, since the inception of social media platforms and the early days of social media giant Facebook, when only the invited group of college students could join it, a new way of marketing brands was born. And that didn't take long before people saw the potential in it and Facebook spread globally within months. After that many other social media platforms follow-up.
Today, with more than 4.62 billion people active social media users, social media marketing plays a crucial part in every brand's marketing strategy to reach the desired target audience. And brands that isolate themselves from social media, slowly stagnate and become harder and harder to attract new customers.
For some first-time social media users, social media platforms could seem a little complicated at first, that's not talking about more complicated business management tools such as one from Meta Business Suite. As the result, you might be thinking, what does it take to become a successful brand on social media channels, and which platforms you should choose?
Therefore, in today's article, we'll share everything you need to know about social media marketing basics. What are the most popular social media platforms right now? What are the benefits of brands doing social media marketing? And how to create a winning social media marketing strategy in 7 simple steps that stand firmly against your competition.
Social Media Marketing Basics
What's a Social Media Marketing?
To begin with, social media marketing is the process of creating content on social media platforms to promote your products or services, build a community with engaging content, share your knowledge and industry expertise, and drive traffic to your other channels. 
And no, social media marketing is no longer a one-way communication, where brands post something occasionally and immediately disappear from the platform. Today it requires much more from brands, and continuous interaction with your target audience is just the start.
Benefits of Social Media Marketing
Social media marketing should be an indispensable part of each successful business marketing strategy, because of the following benefits.
1. Brand Awareness
Active brands on social media have documented increased brand awareness and levels of engagement. The more brands post and engage with their audience on social media, the more organic growth they get. More and more new people start noticing them, liking, commenting, and sharing their content, this way attracting more new people.
And brand awareness from social media has more benefits to it because people might visit your website and become leads or future customers.
2. Generate Leads and Conversions
By being active on social media platforms brands can easier generate new leads or sales. Because they directly interact with people that opted in for their content.
And there are many different ways how to generate leads or conversions. From organizing product giveaways, including your website links to social media bios, launching events, and hosting live sessions where you could share your industry expertise and make announcements. 
3. Build Community
Yes, I know, building a community these days sounds like another "buzzword" you can't miss, but in the end, it can be more than just another sales channel.
Building a hardcore brand community that camps during nights in front of your brick-and-mortar store only to get first your new product will take time and energy. As the result, you must actively engage with your social media followers, create posts, respond to their questions, and be active in the comments.
And with time you'll build a loyal audience community that will support your brand during the ups and downs. What's even better than this is that they've most likely used your product for quite some time. Thus, they'll be a great source of honest feedback about your product, its benefits, and what needs to be improved.
4. Keep Tabs on Your Competition
Social media could be a great source to keep tabs on your competition and understand what works and doesn't work for them. 
Seeing what content your competition posts, and how they engage with the audience could be a great resource for you and what you should try next in your social media marketing. 
In addition, if you run out of content ideas, always take a sneak peek at what your competition posts and what works. This will be a great reference for your future content.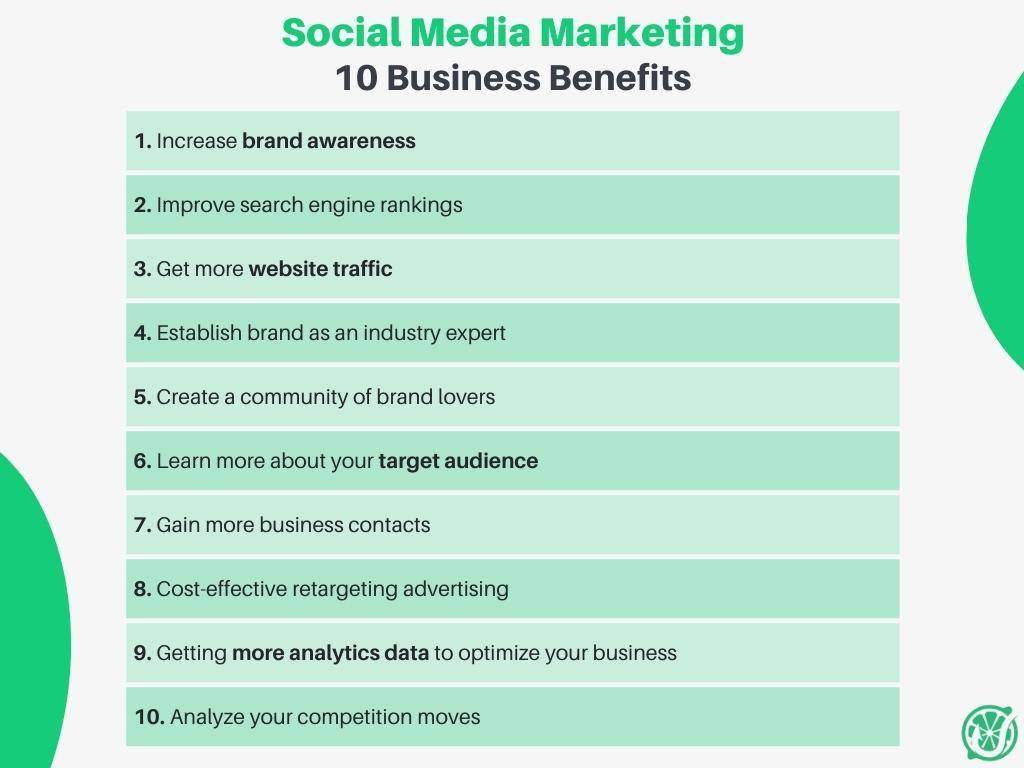 (Top 10 business benefits of social media marketing)
How to Create a Social Media Marketing Strategy?
Doing social media marketing without a clear plan is like shooting at an invisible target with empty bullets. Brands today must have a clear social media strategy that defines all ins and outs of their social media strategy and how to stand out from their competition. Let's take a closer look at each of these steps you should take while crafting a social media strategy.
1. Research your target audience
To start with, it's important to know who you'll be targeting with your social media marketing efforts. That's why you should define your target audience. 
Research your current customers or social media followers, and look for repeating patterns, such as age, location, demographics, or hobbies. This will help you to create useful buyer personas that will tell more about your ideal customers. Knowing this will help you later make better decisions, on which social media channels you should create content and how you should reach them to target their needs and interests.
However, what you should do if you don't have a well-established brand yet and you're still figuring out your target audience? Well, you can take the longer route and set up a research study that will provide more information about potential customers, their needs, and habits. On the other hand, if you don't have much time for this, consider hiring an outside agency that will do all the hard work for you.
2. Set clear goals
Don't proceed with your social media marketing strategy until you've set clear goals.
For this, consider setting SMART goals, and they must be:
Specific (We want to increase the number of people that joined our private Facebook Group)
Measurable (Our goal is to increase Facebook Group by 30%)
Achievable (During our past quarter we've increased our group by 20%, thus 30% should be durable)
Relevant (When your Facebook Group grows we have more chance to generate more leads to our newsletter and make more sales to our educational courses)
Time-bound (The deadline is until October 1st)
Next, think about why you're working on this marketing strategy and what you want to achieve with it. Ask yourself the following questions.
Do you want to increase your brand awareness online?
Do you want to build a community?
Are you aiming at generating more sales?
Or do you want to drive more traffic to your website?
Whatever your goals are, always try to keep them simple and don't overcomplicate. Set between 2-3 goals and focus all your energy on maximizing the output.
3. Choose social media platforms
Once you understand your target audience better, their needs, and their daily habits, it's time to choose the social media platforms you'll focus on.
There's no wrong or right answer here when you choose social media platforms and just need to think more about your target audience and their habits. If your target audience is millennials, 25-40 years old, most of their social media time they most likely spend on Instagram and Facebook. Thus, try to maximize your efforts on those channels.
On the other hand, if your target audience is majority of woman, that prefers more visual-type of content, then you should consider Pinterest. You get the point, try to be present where your target audience spends the most of their social time, and don't try to conquer all channels from the start. It's better to choose 1-2 channels first, master those, and slowly expand your channels later. The worst that can happen, is to choose 5 different social media channels and post only once a month. That will only result in wasted marketing resources.
4. Define metrics to measure success
How well do you know how your campaigns are doing? Correct, by setting clear metrics that define success!
Focus on social media marketing metrics to make data-driven decisions and better understand what works and what should be improved or even removed from your social media marketing strategy. Despite that, there are some unique social media metrics per different social media channels such as tapping a 'heart' on Instagram, these are general metrics each brand should consider tracking.
Clicks
Track the number of clicks people clicked on your content, profile, or website. Knowing this information will help you better understand which campaigns generated the most engagement and which were just another flop.
Hashtag
For tracking campaign performance many brands set specific hashtags, that lets them sort out content better and track which campaigns performed the best. Think of one of the most popular Coca-Cola's hashtags marketing campaign #ShareACoke.
Therefore, for your, next marketing campaign, think of your hashtag strategy, how it'll be easiest to find your content online and which other popular hashtags on the internet best represent your brand.
Reach
A reach is a number that tells how many unique users have seen one of your posts. 
Engagement
That's the total number of social media interactions divided by the total impressions. In other words, that's a key metric that tells how willing your audience is to engage and interact with your content online.
Click-Through Rate and Engagement Time
Instead of following only numbers of clicks, it's important to dig a bit deeper and see if those clicks were useful. If those customers just clicked on your content, landed on the website, and stayed there for a few seconds, without learning more about your business, then most likely those clicks weren't that useful in the end.
5. Plan & Publish
Without a clear end destination, it's hard to start doing something. The same goes with content publishing, and planning is an important part of it. Create a content calendar where you could set all the planned content to publish, with dates, and social media channels. What's important to keep an eye on is consistency. Publish your content consistently and the readers will be returning for more.
Another important point to discuss is content quality, and as Steve Jobs once said "Quality is more important than quantity. One home run is much better than two doubles." Thus, focus on delivering high-quality content, wherever it's a blog post, a YouTube video, or a study summary shared on social media. Next, focus on evergreen green content creation, that will deliver consistent traffic throughout the years but occasionally try to jump on the trending topics right now in your industry.
6. Spy Your Competition
Analyzing your competition can give you many great ideas. Look at what they're actively doing, what works well, and what's not so well. What strategies do they use to succeed online and which social media platforms they're testing right now. This information will help you to get a better sense of what content quality is expected within your industry right now, and help you to appropriately tailor your social media strategy.
Lastly, keeping an eye on your competition can reveal some marketing holes within their strategy. For instance, seeing that they have a strong presence on Facebook and much weaker on Instagram, can give you great ideas to focus more on the channels that aren't that great.
7. Analyze data and polish the strategy
After you've successfully run several marketing campaigns you'll start getting some data back from your metrics. You'll start noticing how well your content was perceived and what great or not-so-great results it generated.
Therefore analyzing this data will give you some great insights into your user's behavior, best posting times, and much more.
As the result, seeing what works and doesn't, will help you to save time on poorly performed campaigns and focus your energy on what's working. In addition, this data will give you some new testing ideas you might want to A/B test in the future.
Lastly, these insights will help you to make better data-driven decisions and polish your social media marketing strategy to better reach your desired target audience. 

Bonus Point
Popular Social Media Platforms Right Now
Social media platforms are an ever-changing ecosystem and there are so many of them, that you can't cover them all in a single post. On the other hand, as we've already discussed earlier that it's better to be great at several platforms than to be mediocre on many. These are the most popular social media platforms right now.
1. Facebook
One of the oldest social media platforms, Facebook gets up to 2.9 million monthly active users and the most dominant 3 age groups are 18-24, 25-34, and 35-44.
In addition, Facebook is the best for business to consumers, raising brand awareness and advertising purposes.
Despite recent social media platform turbulences, privacy issues, and all the brand shifts to Meta, it's still the most active social media platform up to date with 43.4% of Facebook's advertising audience being females and 56.6% men.
2. Instagram
With more than 1.4 billion monthly active users and top 3 dominant age groups 18-24, 25-34 and 35-44 Instagram is our 2nd social media platform best for brands wanting to grow in social media marketing.
Instagram is best for, business to consumers, user-generated content, high-quality videos, and images share, and advertising purposes. Also, you shouldn't ignore its ever-growing B2B sector that slowly sees more and more businesses coming to do business on Instagram.
In general, Instagram ranks as the 4th most active social media platform in the world and it's focused mainly on visually compelling content. Thus, if you're running an e-commerce store, you have an Indian restaurant, or organizing events, Instagram might be a perfect place to share your production, tastiest dishes, or behind the scenes of events.
3. YouTube
Lastly, if your main brand goal is to build a community and your target audience is young demographics interested in consuming video content mostly. Consider focusing your social media marketing efforts on the second most popular social media platform in the world.
With more than 2 billion monthly active users and the top 3 dominant age groups 15-25, 26-35, 36-45, YouTube is the best for B2B, B2C, brand awareness, how-to, and edutainment videos.
Differently from IGTV and Reels videos on Instagram, bigger chunk of the Youtube videos and channels focus on more professional content quality and longer types of videos.
Conclusion
In conclusion, social media marketing is an inevitable marketing tactic these days, and if you wish to scale your brand online you must include it in your marketing strategy.
In short, social media marketing is the process of creating engaging content on social media platforms to promote your products or services and build a community.
Next to many other benefits, social media marketing can raise your brand awareness, generate leads and conversions, help you to build a community, and help you spy on competition.
If you wish to create a successful social media marketing strategy keep in mind these steps:
Research and know your target audience's needs and hobbies
Define clear business goals and why do you do social media marketing in the first place
Choose social media platforms you'll focus on
Set specific metrics such as clicks, hashtags, reach, or engagement to measure your campaign's success
Plan your publishing calendar in advance
Keep tabs on your competition and see what works, and what doesn't
Analyze data from analytics and optimize your marketing strategy for better results
Lastly, never stop experimenting with new social media channels, but be smart and divide your marketing resources appropriately. As we've already discussed earlier, it's the best to be amazing at 2 social media channels, than mediocre at 5.
On which social media platforms do you focus most of your marketing resources and why?