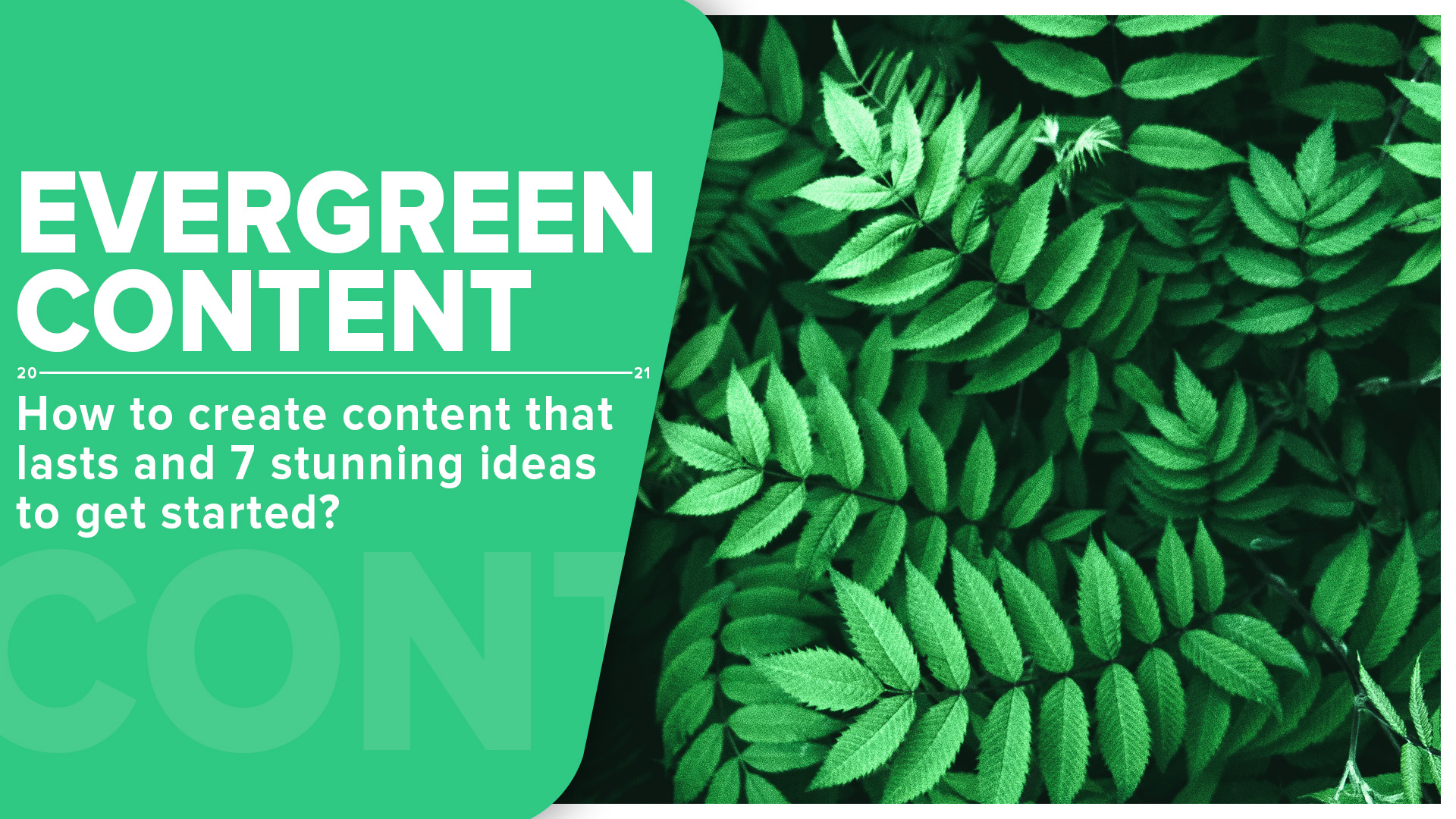 Have you ever noticed that your newly published content loses traffic over time? Or that there are obvious traffics spikes only during the holidays period?
It's doesn't really matter what do you publish. Do you write blogs, create videos or make content on social media, everything gets outdated. And content depreciation is a common effect because over time trends are changing and technology improvements push everything forward.
The only problem here is that you've spent so much time creating this valuable content piece. And it would be a shame to lose this all traffic within the months.
So the real question is, how do you prevent your content from a quick decaying, and are there any strategies that can help to publish evergreen content?
In today's article, we'll answer the following questions and share the importance of creating evergreen content for your business. What techniques to use to maintain your content always fresh, and share our top 7 ideas to get started.
So stay tuned!
Evergreen Content
What's Not evergreen content?
Before we get to the bricks and stones of what makes great long-lasting content and how to create one, it's important to understand what evergreen content is not. 
In short, seasonal and holidays content could be defined as NOT evergreen content.
Usually, these content pieces get huge interest spikes during the release period, and then it suddenly drops. The best examples of not evergreen content are mentioned below:
New product announcements, such as the new iPhone
News articles, including categories such as sports or business
Seasonal content that relates to holidays such as Christmas
Current trends and statistics such as the top 3 popular dresses for this summer season
In short, it includes all the content that it's very relevant right now, but once the trend is over the interest in it drops like a rock into the water.
What's evergreen content?
Different from seasonal content, evergreen content will stay relevant for months or even years to come and won't lose interest that quickly.
Evergreen content doesn't get that quickly outdated. However, it doesn't mean that once it's published you no longer have to update it. And to keep it relevant, it's important to update it and revisit it on a timely basis.
The following topics are the great example of evergreen content:
How to build a house?
How to build muscles?
How to generate a passive income?
How to write a blog?
How to cook a pie?
To better understand the real difference between evergreen and not evergreen content, we looked at two different search terms on Google Trends.
In the image below, you can see the search term volume of "How to build a house?". Overall, it looks quite stable and you didn't have extreme search volume spikes within the past 2 years.
How to build a House?

But, if we search for the term "What date is Easter?". We get more interesting results in the table below. We can clearly see the search term trends over the past several years and graph spikes at the specific dates. Somewhere during the spring, this search term spiked in volume, and once the holidays are over it almost drops to zero. Therefore it's a great example of not evergreen content that is dependant on seasonality.
What date IS Easter?

Evergreen content characteristics
To better understand what makes great content that lasts we need to look at the following characteristics:
Timeless: evergreen content is timeless and it's not dependent on seasonality, Though as much as any other published content it experiences some traffic fluctuations, though it's not so obvious such as seasonal topics. For example, everything related to Christmas or gifts buying. Check out this mortgage calculator by Bankrate that calculates your mortgage loans and provides you with monthly payment expenses. It's a great example of evergreen content that will remain relevant for a long time.
High-quality and up to date: to keep your content relevant, you need to create high-quality content that people would love to share. Choosing the right tools for your content creation pipeline can incrementally increase your content quality and bring your team up to speed. On the other hand, it's common practice that your content will get outdated. Therefore, to keep it relevant update it on a timely basis. To learn more about the importance of updating your content and ranking higher on search engines, check out this in-depth article.
Business benefits
After discussing what makes great evergreen content, you might be wondering, what are the key benefits of creating it and how you can benefit. Well, there are 3 key benefits to your business:
Increased Traffic: because you deliver high-quality content and over time it will remain to be relevant and typically rank well on the search engines. Therefore that means that your content will generate traffic long after it was initially published.
Generates Backlinks: evergreen content is a great piece to generate valuable backlink connections to your business. By writing good quality content, people will be more willing to connect to your site and share it with the rest. And as was disused in our link-building article, backlinks are an important missing puzzle part in your SEO growth strategy.
Continuously Generates Leads: because evergreen content continually brings traffic, and it's well optimized to rank. It'll always bring leads to your site. And many different successful examples claim their content created 5 or more years ago remains to deliver traffic and new leads to this day.

7 Evergreen content ideas to get started
To begin with, there's no single solution that fits all businesses, but there are different content creation formats that tend to perform better than the rest. Therefore we share our top 7 content format ideas that have the potential to become evergreen content.
1. How to Guides
Establishing yourself as an expert within the industry probably took some time and consistent effort to learn and grow. Therefore it would be a shame to keep all know how to yourself and not share it with your audience. 
Creating relevant how-to guides about your industry specifics and sharing your knowledge on trending topics is a good start. For example, if you're a financial planner, it's a great idea to create how-to guides on how to choose the right mortgage lender for your first house. Take an example from real estate expert Trulia that created this guide on how to choose the best mortgage lender.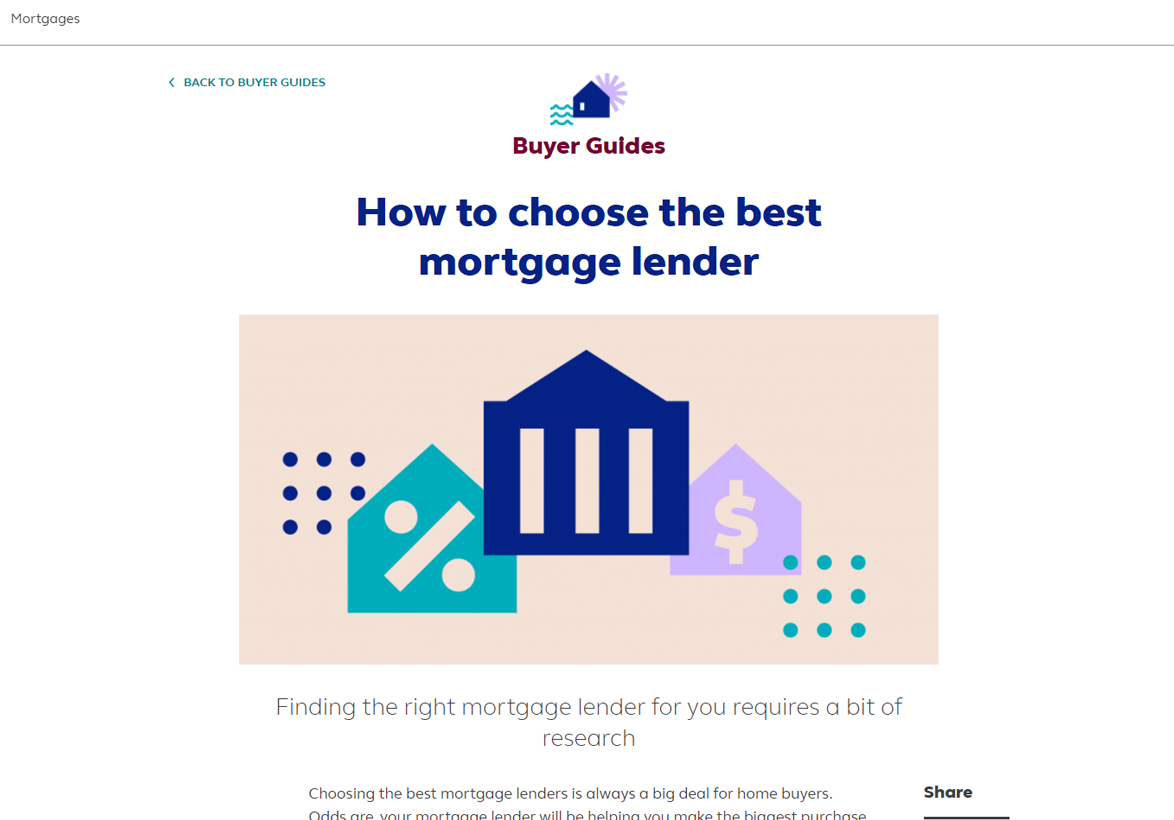 (How to choose the best mortgage lender? | Trulia Guide)
2. Videos
If creating how-to guides is not your cup of tea and you prefer a more interactive way to create your content, think of creating videos. According to Omnicore statistics by the year 2022, the video will make up to 82% of all the consumer internet traffic and just continue to grow.
In addition, once video content has been published it'll be generating traffic to your site years to come after the release. And one of the most popular content pieces will be the ones that remained the longest on the channel.
On the other hand, video content has one downside. After you publish it, it can't be edited and you have to remove it to make changes. Therefore, it's very important to carefully plan your publishing strategy and what topics are you going to cover.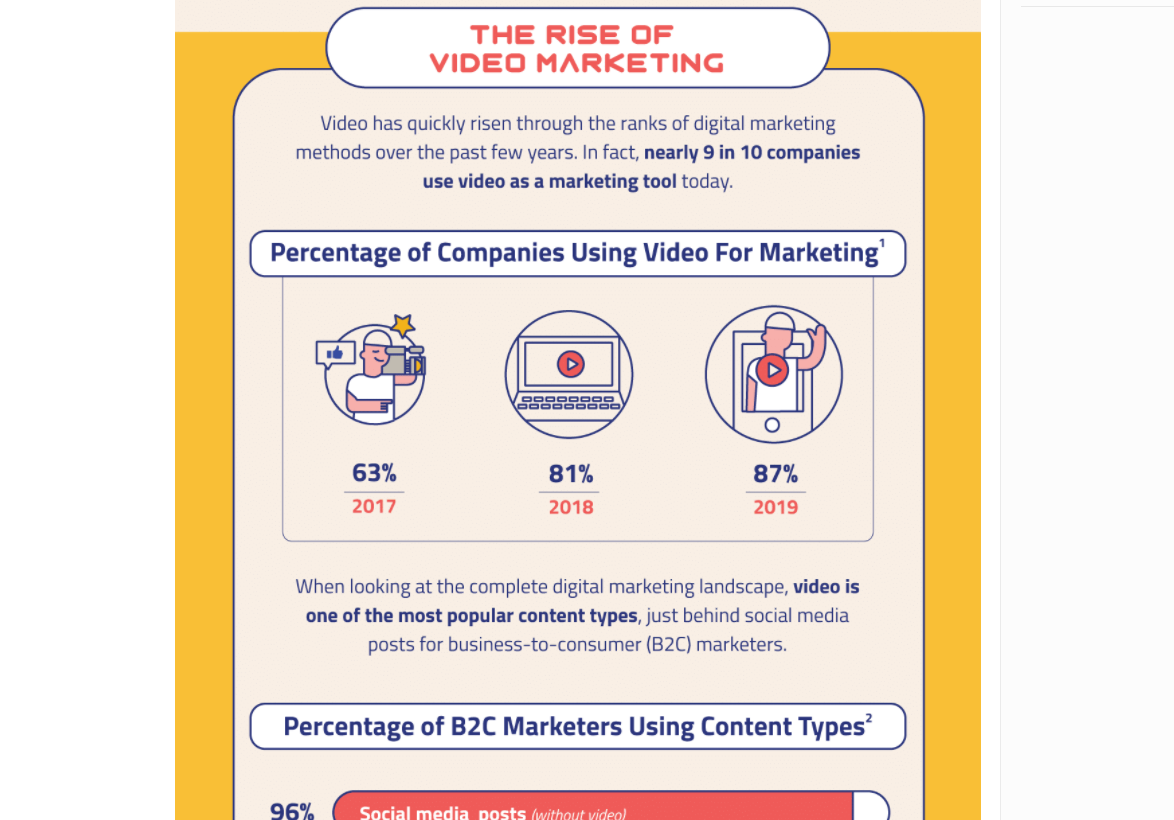 (Why the Future is the video? | Omnicore Agency Statistics)
3. Industry Specific Glossaries
Industry-specific glossaries are another great candidate to become evergreen content. Same as how-to guides, glossaries help your business to establish itself as an expert and share knowledge with the rest.
It doesn't matter what industry you operate in, each of them has its own terminology. Creating an industry-specific vocabulary guide could be a very helpful and appreciated move by your audience.
Take an example from the financial experts Firstrade and how they've used it to generate traffic.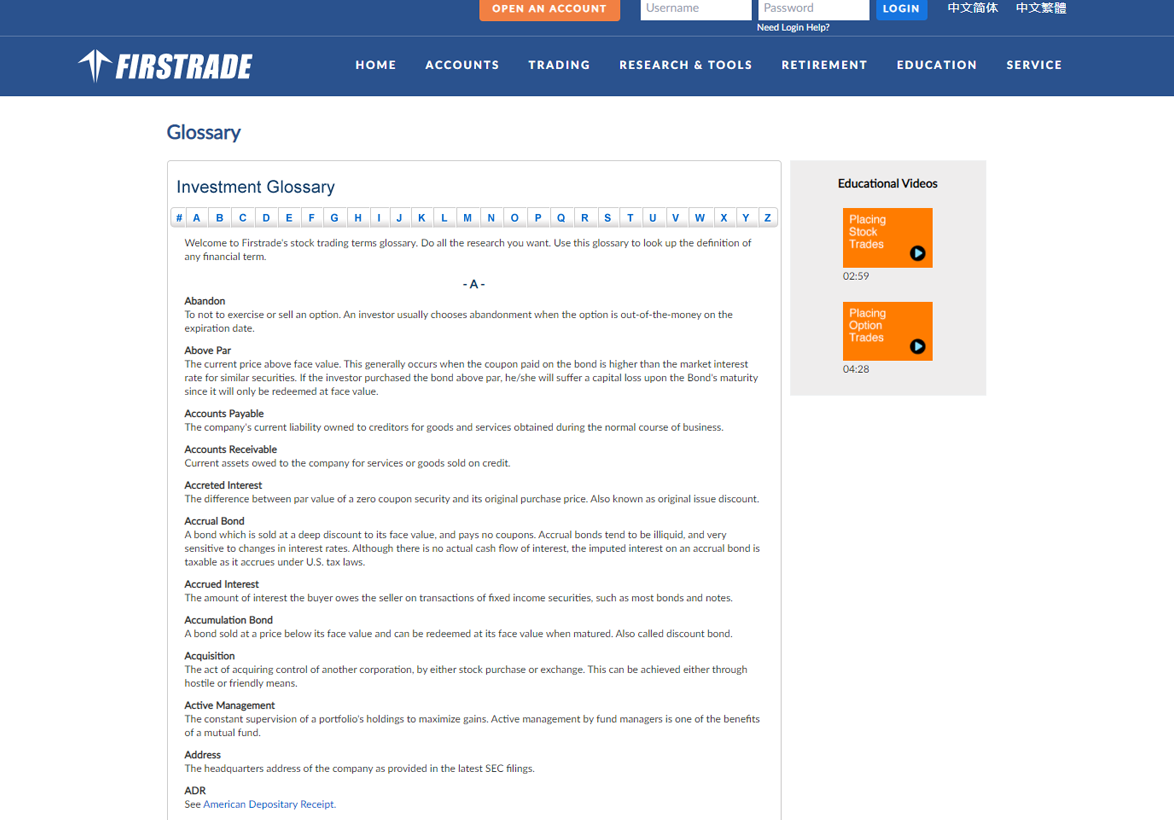 (Stock markets Glossary | Firstrade Glossary)
4. Case Studies
Similar to how-to guides and industry glossaries there's another format type that will help you to position yourself as an expert inside the industry.
However, it's important to mention that this format might not be for everyone, and it comes with lots of data and statistics. Therefore it might be perceived as quite analytic content and boring to some degree.
On the other hand, going this route can help you to boost your credibility as an industry expert. Since you've put a lot of effort to gather all this data and pack it into a nice and easy-to-digest format. It holds massive value and it's a great candidate to become an evergreen content piece on your site.
Lastly, by publishing real-life case studies, you appear to your audience more authentic. And more than 90% of research participants have shared it to be one of the key factors to trust and connect closer with the brand.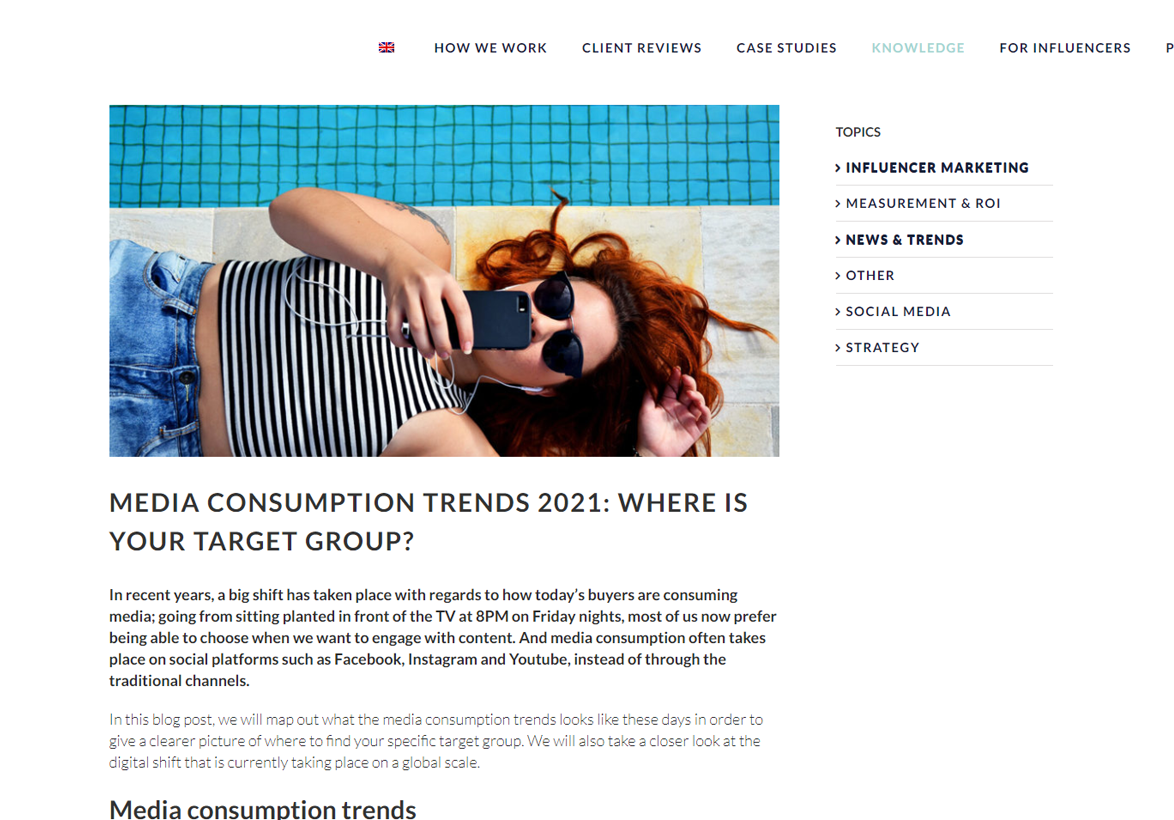 (Media consumption Trends 2021 | Cure Media case study)
5. Testimonials
Successful client stories can be a great idea to create evergreen content that will generate traffic for years to come.
After you successfully closed your client's case, most likely he will be happy about working together. Therefore, it would be a shame to miss this great opportunity and not to ask them to share their experience. And it can be something as simple as few text paragraphs where they share their opinion about your brand. 
According to Wyzowl research over testimonials use, 95% of participants claim that reviews have a huge influence over their purchasing decisions. Therefore, don't miss a chance to collect your positive client reviews and use them to promote your brand.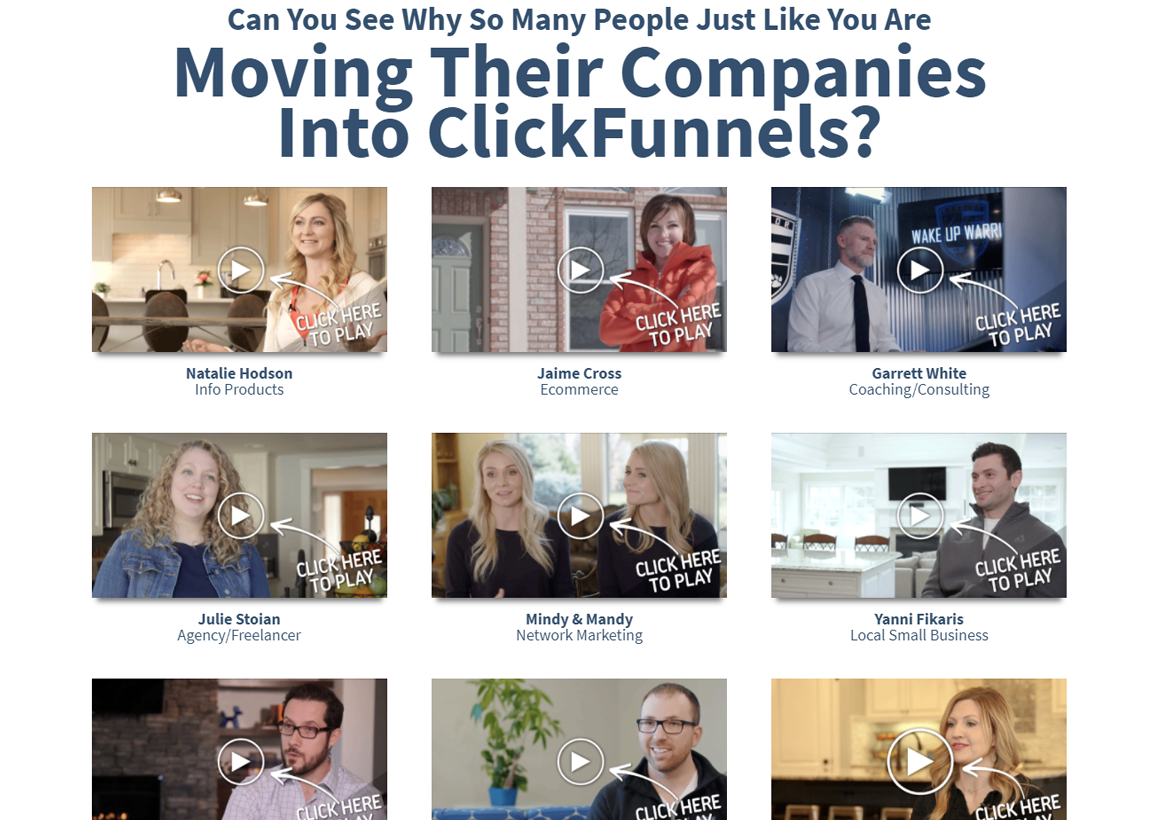 (Clicfunnels testimonials | Clickfunnels)
6. FAQs
Over time your business accumulates a huge library of people asking questions about the problems they have with your product. Over time you start seeing some trends and which of these questions repeats the most.
Therefore establish separate frequently asked questions (FAQs) on your site is another idea for evergreen content creation. This is beneficial to your business for several reasons. It will generate traffic to your site with people that look for answers to their problems. Next to that, the customers support department will save time from answering the same questions and have extra time to help elsewhere.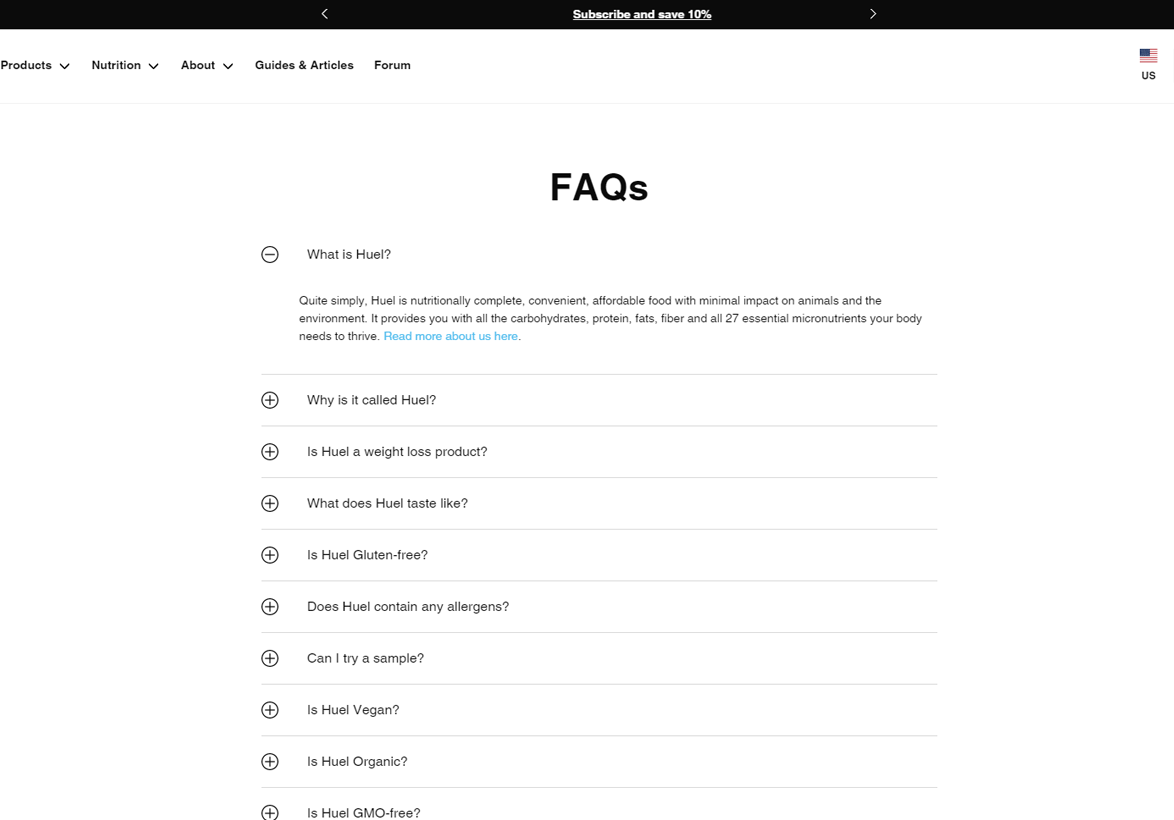 (Frequently Asked Questions (FAQs) | Huel)
7. Infographics
People are visual creatures and we prefer to receive information visually. According to Movableink research data, the human brain processes visual information 60,000 times faster than text.
It would be unfortunate to not use it, and industry-specific infographics are a great idea for it. However, you don't need to create it from scratch, and you could re-use your old content pieces and bring them to life again in a different format.
Lastly, infographics tend to generate links much better than other types of content. This way bringing more traffic to your site or channel.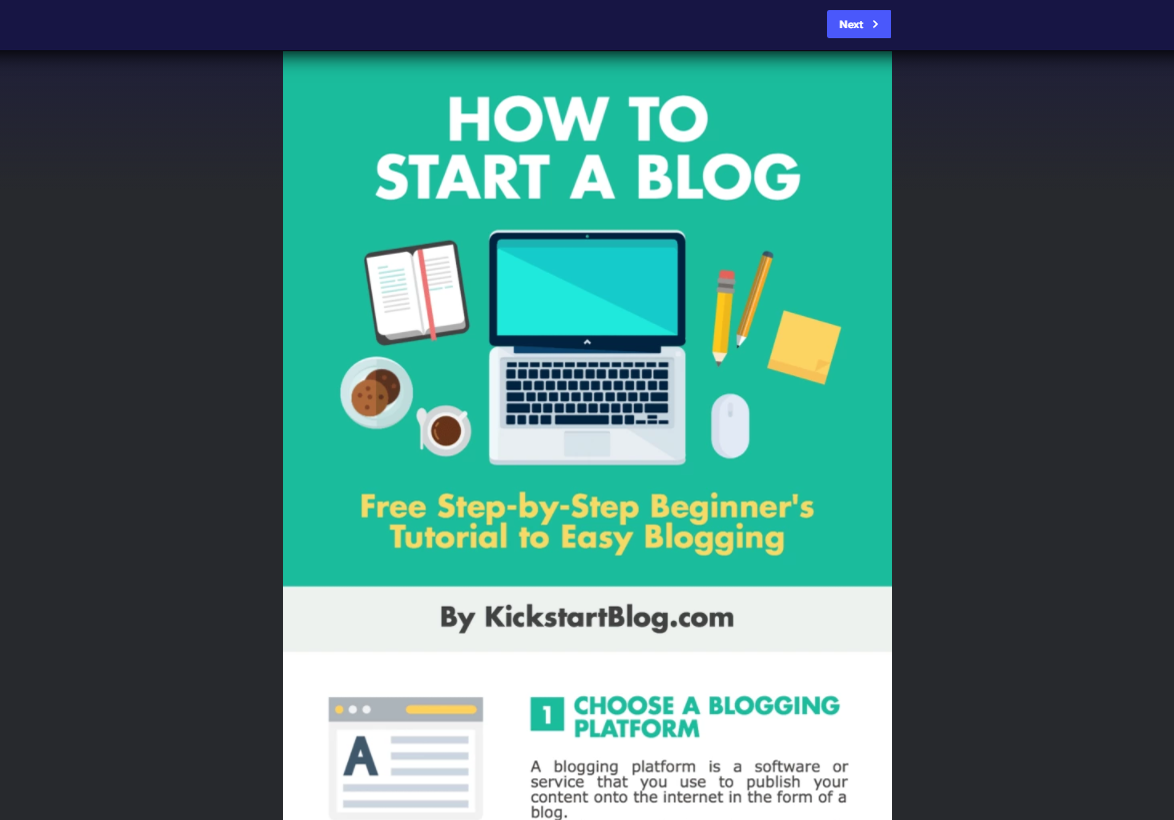 (Infographics on how to start a Blog| Digital Information World)
Bonus Point
Tips on Creating Evergreen Content
Now, that we covered all the essentials of evergreen content and how to get started. You might be asking but how do you maintain your content over time? Because the last thing you want to do here is to publish your content and forget about it.
Therefore here are the top ideas that will help to maintain your content everlasting for years to come.
Content Relaunch
It's quite common practice that earlier published content will get slightly outdated over time and will be asking for an update.
But it doesn't mean that you have to re-write the entire article. Look for posts on your blog that generated a great amount of traffic over time and update it. Replace outdated screenshots, add new information and statistics, maybe update your outbound links.
To get the best results, make sure to promote your updated content on social media and keep the audience informed.
Content Repurposing
We've touched upon this one briefly in the top 7 ideas to get started with an evergreen content creation. However, we have to mention the importance of content repurposing and its potential to generate traffic.
Closely analyze your website analytics and compare which posts are the best performers. This way you'll understand if that subject worked out as a post, most likely other types of formats will work too.
Take the good-performing blog post and repurpose it in different formats. Make a video out of it, record a podcast, or even share it as a pretty infographic. This way you'll save a lot of time writing new pieces from scratch and you'll be partly guaranteed that this will work and generate traffic to your site.
Nevertheless, don't forget that once you repurpose your content, make sure to adapt the specifics of the new file format. It would be strange if you would just blindly record yourself reading your blog post and launch that as a podcast. Most likely that script will need some tweaks before it can go live.
Promote on Social Media
It's a common effect that your newly published content generates the most traffic at the beginning of its lifetime. And over time it slowly diminishes and gets pushed lower and lower on your rankings.
Therefore, it's an important step to promote your content on social media such as Facebook or drop a quick tweet. It doesn't matter much if you just partly updated it or did a major revamp, let them know about that.
Conclusion
To summarize, there's no single answer to what makes great evergreen content and every business needs to find a solution that works best for them. 
However, if you want to create evergreen content avoid topics such as daily news, holidays, and the latest product announcements. Meanwhile, focus on timeless topics that don't have traffic spikes over the years and it's stable.
Next to that, every business needs to focus on creating everlasting content and it's beneficial for several reasons. It continues to generate leads over time, despite seasonality. It generates backlinks to your business that helps to gain higher search engine positions and it increases traffic.
Since there's no single solution that fits all. We suggest the following 7 evergreen content ideas to get started right now:
How-to Guides
Videos
Industry-Specific Glossaries
Case Studies
Testimonials
FAQs
Infographics
Lastly, don't forget to occasionally update your content, repurpose it to different formats and promote it on social media. And it doesn't matter if it was just a slight update or you had to revamp it from scratch.
Though, if you wish to dive deeper into the content marketing techniques and secrets, learn more about keyword research, building SEO strategies, and more industry insights from the top marketing leaders. Check out this great read The Art of SEO: Mastering Search Engine Optimization by Stephan Spencer and Jessie Stricchiola and let us know your opinion.
What's your Top strategy for creating Evergreen Content and which technique do you like the most?