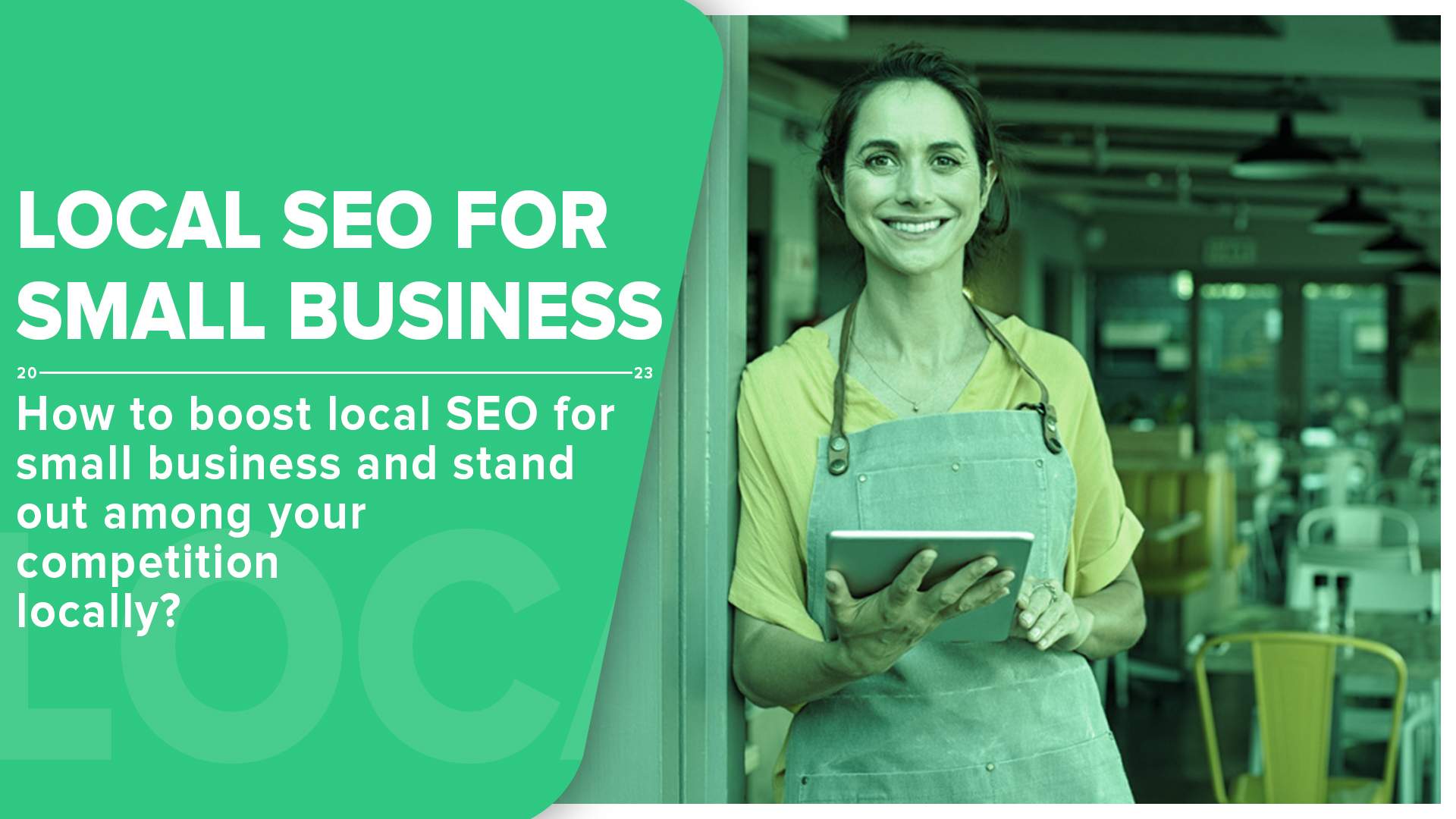 In today's digital age, where websites are the mode of research and smartphones are a go-to for solutions, the online presence of your small business can make or break its success. Think about it: whether we're looking for a cozy roadside cafe, a local repair shop, or the nearest yoga studio, a quick web search connects us with the world outside our door.
If you're the proud owner of a small store, you already know that the first line of customers you need to target are those searching for local services and products. And you aren't wrong: around 46% of all Google searches today are aimed at finding local information. Plus, approximately 18% of users who search for a local business on their smartphones end up in a purchase within a day.
Put simply, Local SEO is your best friend if you want your business to stand out and pull customers who are ready to shop. But what are the tips and tricks for local SEO to help put your brand in the spotlight? Well, read on! In this article, we'll walk you through tried-and-tested tips to make your business the favorite spot of all the prospects in your neighborhood.
Local SEO Basics
The Definition: What Is Local SEO
Local SEO, or Local Search Engine Optimization, is a digital marketing strategy that helps local businesses improve their online presence and connect with potential customers in their community or tourists visiting the site. This approach is especially beneficial for brands with a physical location, like local stores, restaurants, or service providers.
Why Local SEO Is So Important for Small Business
When people search for products or services, they often turn to search engines like Google to find what they need. In fact, mobile searches for "business near me" increased by 250% in the last two years, reflecting a growing trend in how people seek out services and solutions today. This is where local SEO steps in — it ensures that when someone types in those all-important keywords to search for a business in their area, your brand appears at the top of search results. It's like a signpost that guides potential customers to your doorstep or website.
For example, let's say you're a pet grooming brand or a family-owned hardware shop in Houston. Now, if someone in your community would be looking for those services, they'd type in their phone "pet grooming services near me" or "reliable hardware shop in Houston." The results they see can make all the difference in where they decide to go. And that's where local SEO steps in to make sure it's your service they find.
The process of local SEO involves a bunch of strategies. These include optimizing your website well by including your business name, address, and business hours, along with maintaining a Google My Business (GMB) profile. A GMB profile functions like an online business card that provides information about a business (Read: location, reviews, and images).
10 Local SEO Optimization Tips
1. Optimize Your Google My Business (GMB) Listing
Google My Business (GMB) is a game changer for local SEO, especially for small businesses. But first, what exactly is Google My Business? Well, it is a free online listing provided by Google that lets companies showcase all the relevant, key aspects of their brand. These include location, operating hours, captivating images, services, and products.
This listing is what makes your offering appear in local search results when people in your area are looking for services. Here's how you can improve your GMB profile for local search results:
Accurately list your business hours, including weekends and national holidays
List down features that reflect the vibe of your brand (Read: outdoor seating, live entertainment, drive-thru, or happy hours)
Upload visually appealing photos and videos that help your audience connect with your place, in turn boosting your rankings
Encourage customers to share reviews by offering a bonus for it, say 5 percent off or a complimentary drink
Respond to both positive and negative customers to build trust and boost your GMB ranking
If you employ all these measures well, Google recognizes your business as authentic and well-managed. This may reward you with a coveted side space on Google's local search results, attracting more local customers and increasing your visibility.
2. Consistent NAP Information
Consistency is a key factor in local SEO, and it revolves around the NAP information of a business. NAP stands for Name, Address, and Phone Number, along with the area code. But why do these details matter? Well, they're crucial for a brand's online presence since they help both people and search engines locate and recognize a business easily.
To make your NAP information work without a glitch, it's essential to list it as crawlable HTML text on your website. This makes it easily accessible for search engines, like Google, which use this information to provide better location-based search results. The best place to locate NAP information is your website's header or footer section or perhaps the "Contact Us" page." This way, your contact information is right where your visitors are searching for it.
A great practice when it comes to NAP information is NAP citations — places on the internet where a company's name, address, and phone number are mentioned. The more credible and trusted a business's citations are, the more chances it has to appear on the search results. Thus, you should ideally aim for citations from a big name like Yelp, Bing Places, or Apple Maps. The concept here is that the more consistent and widespread your NAP citations are on trusted websites, the more confidence Google has in your business's legitimacy and trustworthiness.
3. Local Keyword Research
Local keyword research is the backbone of local SEO; it's like the magnet that pulls your visitors in and guides them through the sales funnel. During keyword research process identify short and long-tail keywords, that people use when searching for products and services locally. By targeting these keywords, brands can attract and target relevant traffic to their websites and physical locations.
Here's how you can initial your local keyword research:
Examine what the competitors are doing: By analyzing the keywords your competitors are targeting, you can gain valuable insights and ideas.
Use the Google Autocomplete feature: If you're in California, start typing "best vegan restaurants in," and Google will provide a bunch of location-specific suggestions
Utilize Google's Keyword Planner: Primarily designed for researching keywords for paid campaigns, this tool can also help you identify keywords related to your local business
4. On-Page SEO
On-page SEO helps businesses enhance their visibility online and attract more customers. This process involves optimizing the structure of your website to improve its performance in the search engines, especially when it comes to local search queries. One of the key strategies for on-page SEO is to create high-quality and relevant content.
Remember, every blog post you publish is an opportunity to target local search phrases and improve your rankings. Thus, it is crucial to sprinkle geographic keywords into the URL, title, header, meta description, and body of your content. Plus, add relevant images in your blogs that resonate with the local community you're selling to. The catch here is to rename the image files with descriptive and keyword-rich names.
Plus, adding location-specific pages to your website also helps promote the local services you offer. For instance, if you have multiple branches of your restaurant, each location should have its dedicated page on your website. You can also take advantage of internal linking — simply link to relevant pages on your website whenever you publish a blog.

5. Cover Local News and Events
If you want to improve your online presence and make your business the go-to in the community, you need to build a reliable, potent digital profile. When you write blogs or publish newsletters, it's crucial to sprinkle in the names of the city and nearby neighborhoods. This helps search engines recognize your business as trustworthy and build your reputation in the locale.
People don't always use the official city name when searching for businesses online; instead, they may use neighboring towns, communities, or even informal terms that people in the area use. By adding all these variations to your content, your company is likelier to appear in the search results for a range of local queries.
Here's how you can use this strategy to benefit your small business:
Write blog posts on relevant queries. If you own a bakery in Brooklyn, perhaps publish content on "The Best Wedding Cakes in Brooklyn" or "Where to Find Delicious Pastries in Park Slope, Brooklyn."
Capitalize on the popularity of upcoming events by sponsoring local teams, events, or organizations and writing about your experiences
Interview local experts within your company and the local neighborhood to add depth to your content and strengthen your online presence
In this way, businesses can contribute to their local SEO while acting as active members of the community. When you keep your business up-to-date with the recent developments in the community, you become a go-to for local information, and search engines reward you for being relevant.
6. Mobile Optimization
A mobile-friendly site is no longer an option but a necessity in today's digital age, considering that 82% of smartphone users are conducting "near me" searches. How is this related to local SEO, you'd ask? Well, the ultimate goal in SEO is not just to pull traffic to your website but to keep it engaged. Think about it: if customers don't find your site friendly or easy to navigate, there's no reason they would not click away or consider a competitor.
A mobile-friendly site, in essence, is a site that has four key elements: a responsive page display, clear fonts, accurate formatting, and seamless media display. These features put your website together and ensure that it functions well on smartphones, making it easy for users to find what they need.
But mobile optimization is not only about the structure of your website; it also involves publishing user-friendly, readable content. Here's how you can do this:
Break your text into short paragraphs
Use white space in between blocks of text to improve readability
Use subheadings and bullet points to make it skimmable
Add a summary section for at-a-glance insights
Utilize styling options like bold or italics to emphasize important points
7. Social Media Engagement
Today, being in the spotlight is spontaneous with being active on social media. If you want your small business to appear in the search results, the key is to actively engage on your social media platforms. This helps boost your visibility online and indirectly helps with SEO by exposing your business to a wider audience base.
To begin, build a social media profile on relevant channels. Running a local restaurant chain? Platforms like Instagram are your best bet since they focus on visual content. Have a pet grooming service or a hardware shop? Well, Facebook might be a better pick for you. In this way, you can use relevant social media platforms to catch your customers where they are.
The catch here is to stay relevant, active, and engaged within your community. You can do this by running promotions or contests on social media. This is because the more people engage with your content, the more engagement you receive in terms of likes, shares, and comments. And all of this adds to your online reputation and authority.
If you're confused about how to optimize social media for local SEO, here are a few tips to do so:
Use alt text with relevant keywords for image and video posts
Select relevant tags and categories to be discovered easily
Add relevant, location-based keywords in your profile and posts
Include contact information (Phone number, website, and address)
Encourage audience engagement through QNA sessions
Optimize OG/X card metadata tags for website links
8. Earn Local Links
Earning local links is a must-have for small businesses, whether it be in the form of inbound links or small businesses. Why? Because they function as a green signal for search engines like Google, telling it that your brand is credible and authoritative. As a result, they amp up a brand's visibility and also contribute to its website in terms of domain authority.
Thinking about how to earn local links? As we discussed earlier, getting active in the local community is the way to go. When you participate in the news, local events, and seminars, you're likelier to build sponsorships, partnerships, and mutual collaborations. Why not earn a strong backlink by sponsoring a cricket team in your city? Such partnerships help your business get noticed, and some of these may also give you backlinks or recommendations.
9. Encourage Customer Reviews and Feedback
Customer feedback can be both a deal maker or breaker, depending on how a business treats its most important asset — the customers. Not too long ago, it was easy for companies to shape their online image through marketing, often hiding any cons. However, the Internet has restored this power to the customers, and today, anyone can assess whether a brand lives up to its claim. In fact, 81% of customers today read a business's reviews and feedback online.
Among the bunch of review platforms, Google reviews particularly impact the rankings within the search results. Thus, it is crucial for any business to encourage reviews and feedback. Remember, you need to make it easier for your audience to leave comments, so add review links to your email signatures or direct links on your website. You can also keep an incentive/bonus for those who leave a review (5% off the next order or a free consultation), encouraging feedback and search rankings.
10. Optimize for Voice Search
As technology advances, voice search optimization is becoming even more popular, and it's crucial for businesses to cater to this shift. When people use voice search, they're likelier to phrase their queries in a conversational manner.
For example, we'd perhaps type "tablespoons to cups conversion" while searching the website but would speak something like "how many tablespoons are in 8 cups" while using the voice search. In essence, voice search is usually longer and more natural language-based compared to types queries.
Thus, businesses should use long-tail keywords and phrases that better fit with the way people speak. This means aligning your presence with all the question-related jargon (Read: who, what, when, where, or how).
Conclusion
Local SEO is a go-to for all brands and thriving businesses seeking a competitive edge in the e-commerce landscape. It not only helps bring in more foot traffic but also boosts your online visibility through word of mouth, recommendations, and feedback. From optimizing your Google My Business listing to local link-building and on-page SEO, there's a lot to take into account to earn that sidebar space in Google search results.
This article has reflected thoroughly on the ins and outs of local SEO in today's age. But, as technology continues to evolve, what emerging trends do you think will be the future of local SEO?
What local SEO techniques do you use?