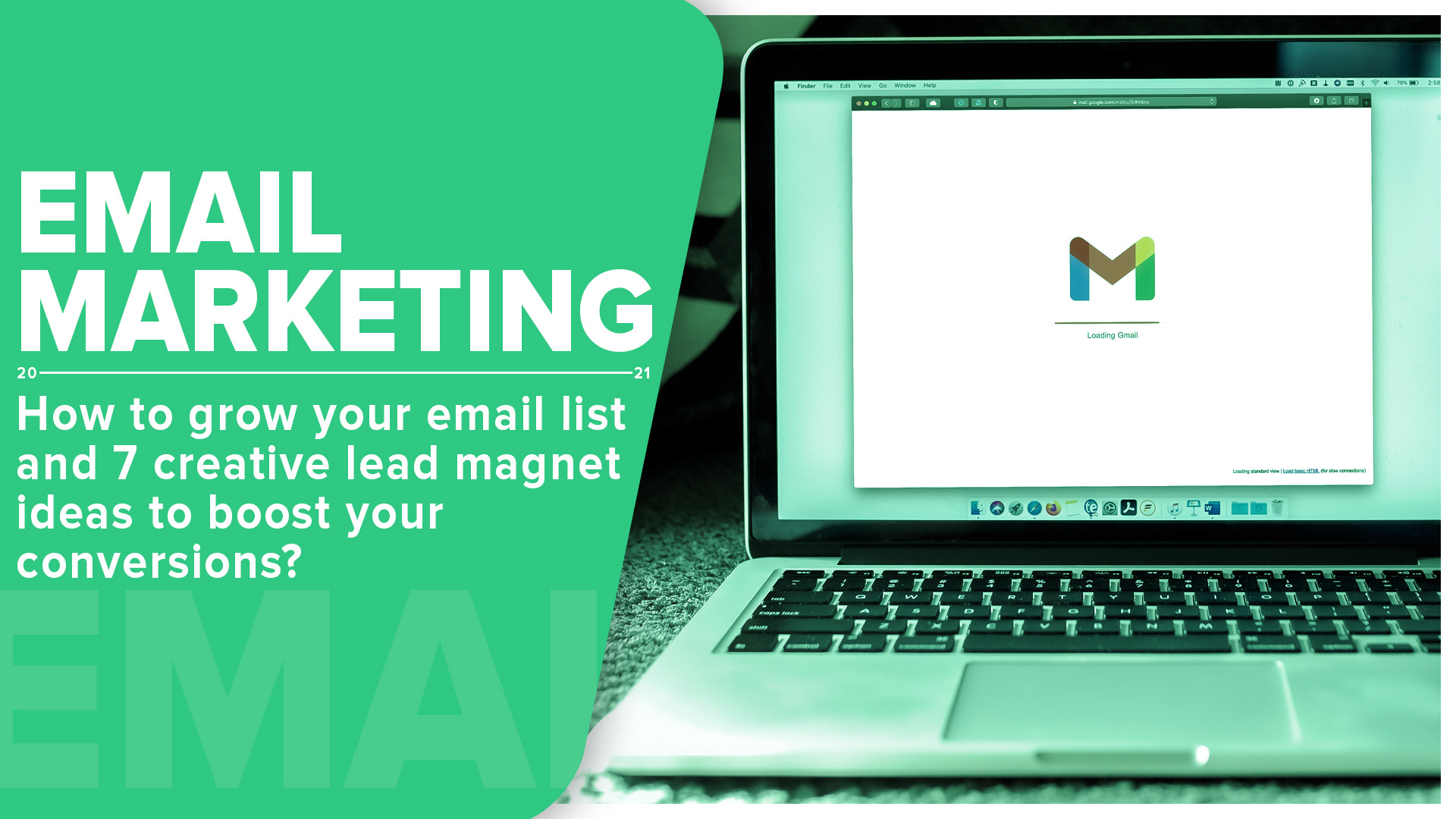 Have you just started your business adventure and trying to grow your email list of raving fans, though it doesn't go as expected?
Welcome to the club! Growing your email lists isn't that easy process as you might think at first. And it takes lots of time, work, and great strategy to kick it rolling.
On the other hand, it's one of the most important ways how your business can keep in touch with customers without interruption by media algorithms and cannot be ignored.
Compared to other media channels email marketing has one of the biggest return on investment (ROI) and can peak as high as to 4200%, which means for every $1 spent your business earns $42 back.
On the other hand, more than 37% of respondents claimed that email marketing is one of the most effective channels to nurture customers loyalty, retention and is one of the top ways to offer special deals and promotions.
Therefore, in today's article, we'll cover all you need to know about lead magnets and how to craft an attractive one. What are the business benefits to grow email list? And we'll share top 7 ways how to grow your email list and 3 software to speed up the process.
So stay tuned!
Lead Magnets and Its Benefits
Lead Magnets
In marketing terms, Lead Magnet is an item or service, usually given away for free in order to gather contacts details of your customers. It could be done by offering free ebooks, white papers, consultations, trial subscriptions, various product samples, and much more.
In short, marketers use powerful lead magnet techniques to generate lists of valuable customers information who are most like to convert in the feature to buyers. This way building a network of sales leads.
The Blueprint
In short, lead magnet process begins with a highly valuable offer, that can be an ebook, video course on a study report that aims to attract customers to your site that will be willing trade-off their valuable information for it.
After you've successfully set up the lead magnets to attract customers, you'll need to store all this personal information somewhere safe and secured. Perhaps writing them down on an A4 paper isn't optional and would be huge time waste, though using tools such as Mailchimp or HubSpot Email Marketing Tools would be a great start.
Once you have all your customer's data safely store and protected, it's time to create attractive offers and promotions that you could send to your email lists and generate some sales.
Lastly, don't forget to make outstanding offers that would be hard to resist. As a result your open rates should increase and eventually generate more sales.
Imporatance of Growing an Email List
High Conversion Rates
There are many reasons why you should build an email list. Firstly, email marketing is one of the best ways to connect with your customers without interruption by media algorithms. Secondly, it's proven to convert 40 times better than any other channel such as LinkedIn, Facebook, or Twitter.
Builds Trust
In addition, email marketing builds trust and transparency between your brand and customers. Today most people read their emails in a private environment and this way connects better to your brand. On the other hand, reading the same message on social media platforms would make a much smaller impact.
High Open Rates
Certainly, email marketing isn't the newest lead magnet technique and has been in the industry for quite some time. Though it remains high open rates and more than 21% of emails are opened within the 1st hour of delivery.
Communication Control
Each day there are thousands of different new content created on how to compete against social media algorithms to grow your brand. However, that it's not guaranteed too, and having your email list gives lots of leverage to your business. And only then you're in full control of communication to your audience and the content you share with them.
7 Attractive Lead Magnets to Grow your Email List
Now that we understand what are the lead magnets and the importance of growing your business email list. Let's discuss what are the key techniques we could use to grow your list.
1. Start Blogging
If you haven't started blogging yet, don't waste any time more and start it today, because it's one of the best ways to grow your business organically on search engines. In addition, it's a free way to get traffic, and that means you don't have to spend any single penny on getting people to your site. In fact, here it's a complete blogging guide from ThriveMyWay, that will help you to get started.
According to research data, there're around 7.5 million blog posts published daily. These days blogging is quite competitive and overcrowded with a massive amount of content published each day. Therefore, the best way to stand out is to pick a niche industry that your customers will enjoy reading.
Lastly, it's doesn't really matter what industry you're in and if you put in some good work and stay consistent with publishing. Certainly, it's possible to create a successful blog domain and build your tribe.
2. Webinars
Webinars are quite trendy nowadays. And it's no surprise why, because they convert like hell and live events have a much higher perceived value. That's because, during the live show, people can ask questions directly and interact with you on the go. On the other hand response to your comment on social media might take several hours to days to be answered.
However, it's important to mention that webinars will take quite some time to set up. Therefore make sure to choose the right tools and build a successful marketing strategy beforehand.
Use tools such as Zoom, Youtube, or Facebook Live to kick off your journey to live events.
3. Ebooks and White Papers
It's one of the most popular lead magnet techniques that will help you to grow your list. Next to that, it will increase your SEO efforts on your site.
As a result, it can't be ignored and it's still one of the best ways to grow your list. That can help you to establish yourself as an expert within the field.
4. Free Trials
This method is a better fit for companies selling software as a service (SAAS). Though it doesn't mean that it can't be applied to other types of disciplines.
Offering a free trial could be a great lead magnet to collect your customer's data. In a consumer-related business, it's a common practice that first, you want to try the product and get familiar with it. And only then make the purchase or subscribe to their service.
This method is better known as the freemium model and one of its strategies is to offer free product trials. These can be focused on time restrictions or products with locked premium features. As a result, once you decide to unlock them you'll have to buy the product.
5. Gated Content
Similarly gated content can be quite a powerful technique to grow your email list.
In short, this technique is used to lock your premium quality content such as ebooks or video courses. As a result, people who want to get it, need to join your email list to unlock it.
Lately, gated content has been popularized more and more across the media industry. So make sure to not be the last one and start implementing the following technique right away.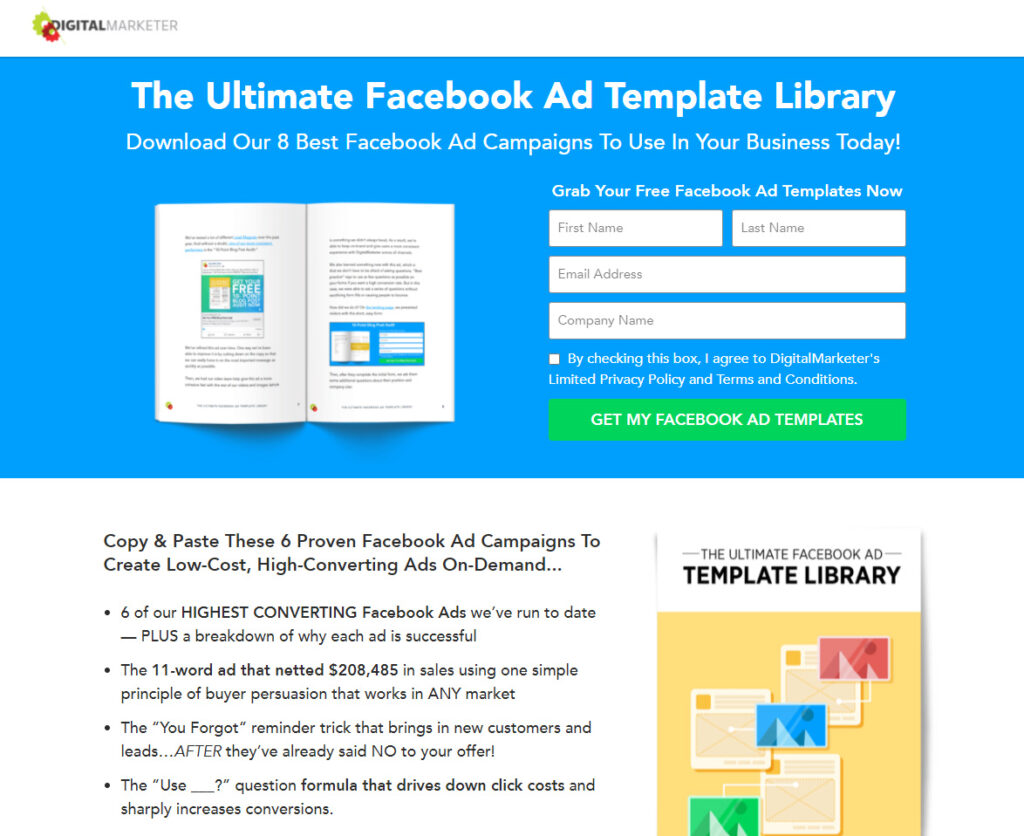 6. Contests and Challanges
Everybody loves contests where you can win something valuable or by participating contribute to a bigger cause. First of all, they're fun and can be truly engaging. Therefore organizing a contest or challenge could be a great lead magnet to your business. That will help to collect your customer data and build your lists.
In addition, they're simple and easy to set up. To begin with, think of what are your audience's interests or what problem you would like to help them solve. Next, create an attractive contest where they will have to put in some work and spend their personal time. Maybe they need to send a video doing something for it or it could be to fill a questionnaire. And of course be sure to come up with an attractive reward, because no one wants to waste their time for free.
Check out this contest organized by ToolsToday during Farther's Day. Here the participants had a chance to win some truly great prizes that every dad would like to have.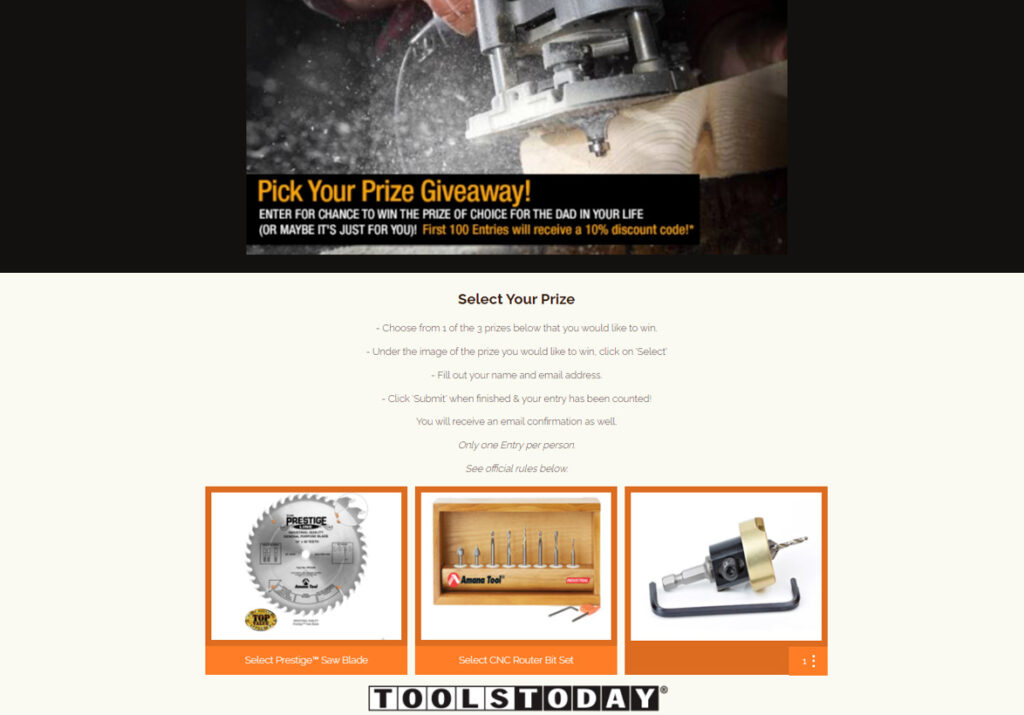 7. Research and Study reports
It's well-known fact that research studies could be quite time-consuming and costly to your company's resources. Though they could be very helpful to answer a particular question or solve a problem for your customers.
In addition, executed well it could be a great lead magnet to grow your email list. Research data is a great piece of content for anyone looking for professional help that doesn't have lots of free time to find answers to their problem.
Check this study report from Influence&Co that analyzed more than 127,000 pieces of digital content published during the last year. As a result, they provided digital media industry forecasts for the upcoming year and what could be expected.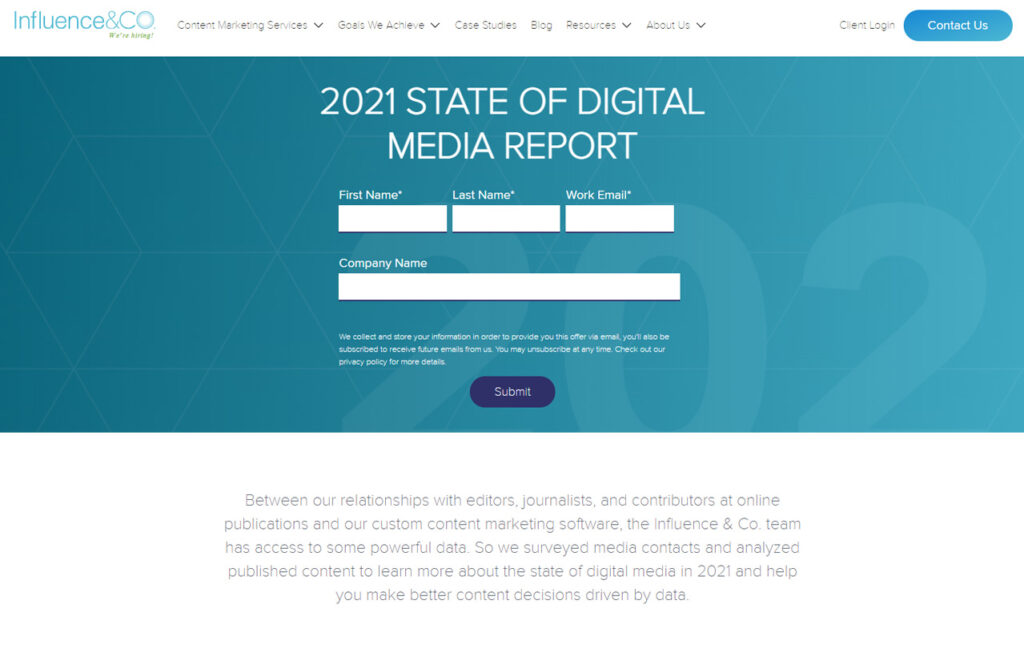 Top 3 Softwares to Speed Up the Process
Once we already know what techniques we want to use to grow our email list we can start executing them. Though it can be quite a time-consuming process. Luckily some tools can help us here.
1. OptinMonster
It's one of the most versatile and powerful email list-building tools in the industry right now. It can really speed up the creation process of signup popups and slide-in forms on your website.
OptinMonster build-in tools come with many different pre-loaded themes that could be heavily customized to match your branding. Though if that's not enough you can edit it from scratch yourself with custom CSS and HTML.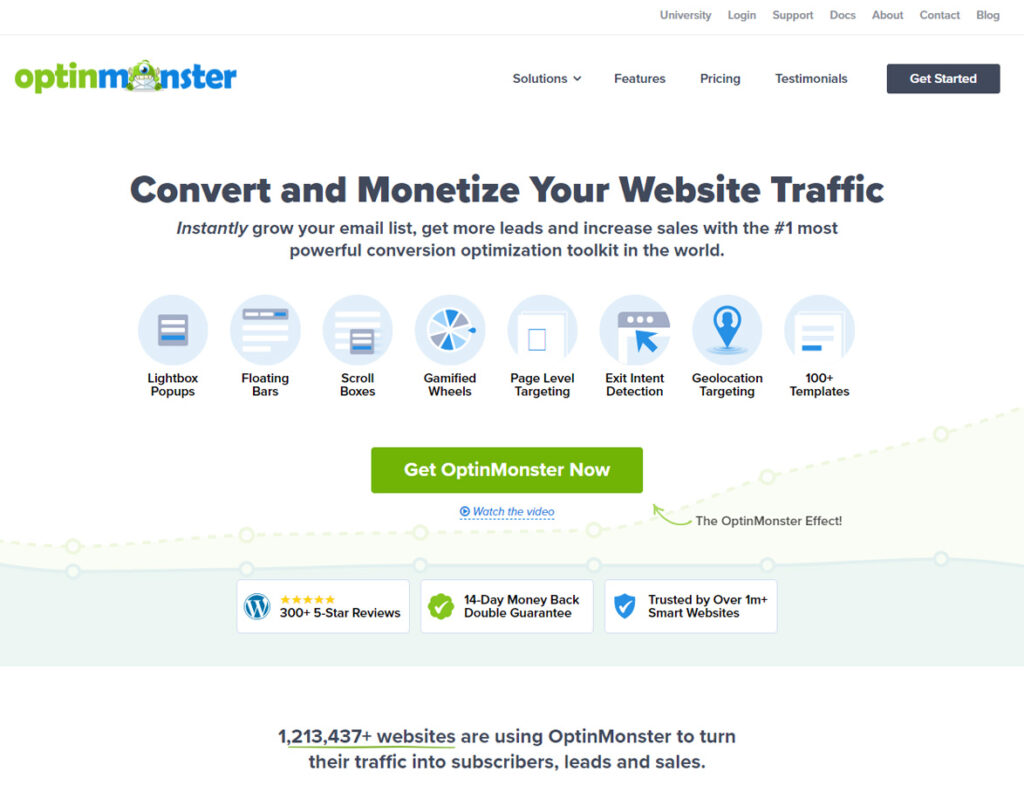 2. OptiMonk
Another great tool that can speed up the process of growing an email list is OptiMonk. It was started back in 2014 with the idea to revolutionize the e-commerce industry and improve conversion rates.
Over those years, the company helped more than 3000 e-commerce businesses to ramp up their sales through on-site retargeting and tracking visitor behavior. Above all, they promise to help your business recover at least 15% of your cart abandoners.
OptiMonk is loaded with different features that will help you to kick off A/B testing of your signup forms. Track your performance using build-in analytics, and much more.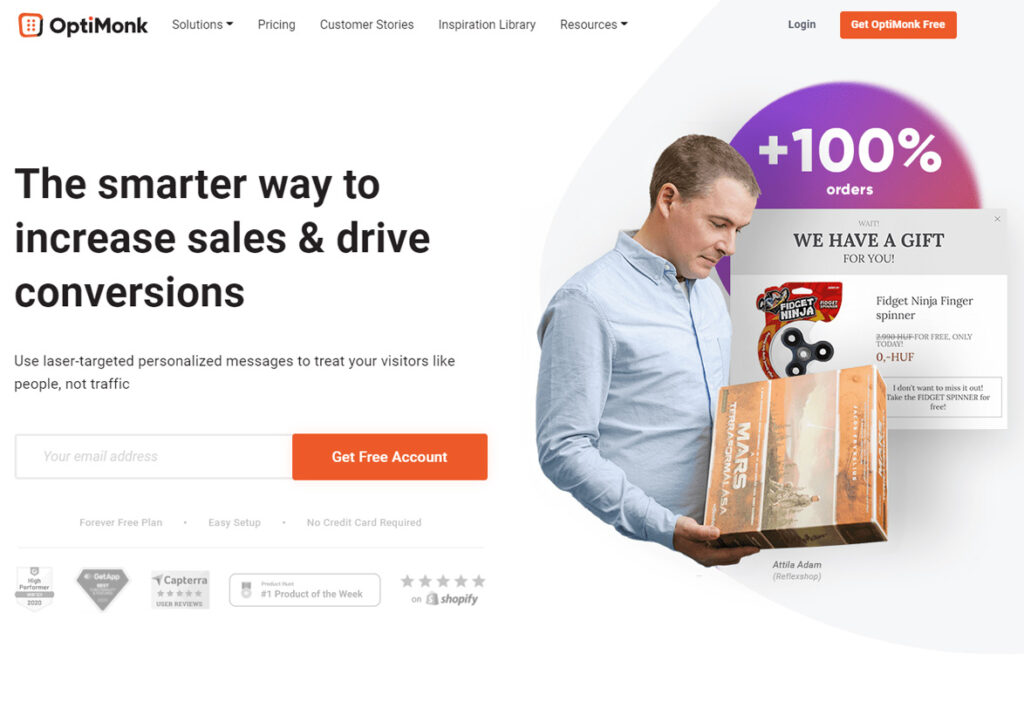 3. Thrive Leads
Last, but not least comes one of the most popular lead generation plugins for WordPress users. Thrive Leads was developed by a group of developers that were obsessed with conversions optimization.
Once they had a problem and couldn't find an email marketing tool that would do all the things they wanted.
Therefore they developed a tool themselves that helps businesses to grow their lists using various smart solutions and cutting-edge techniques.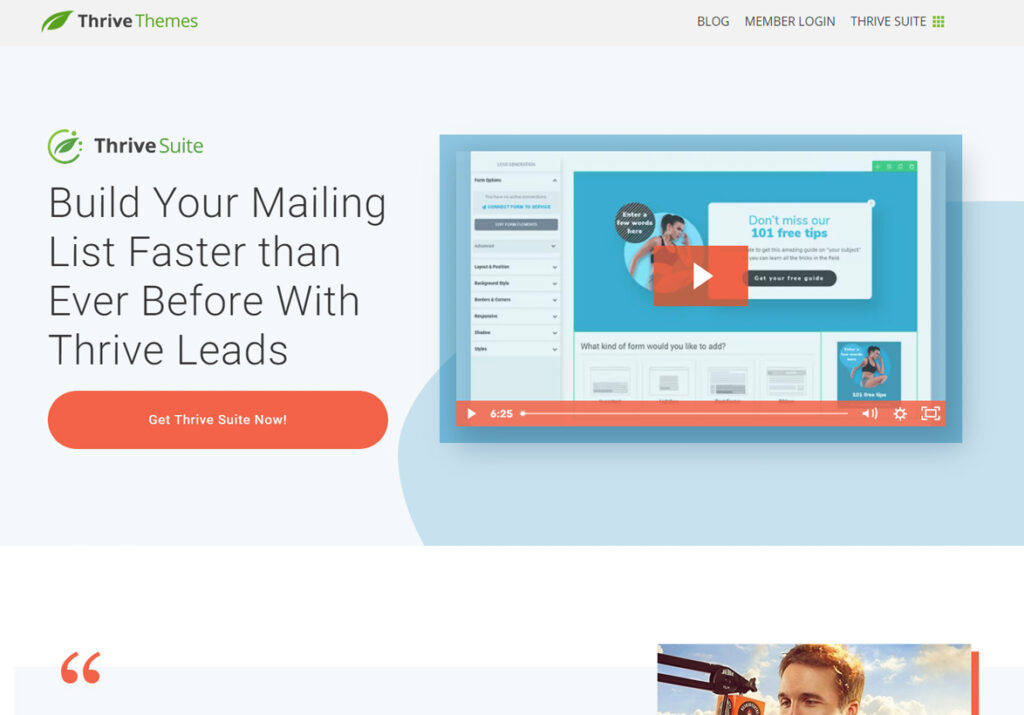 Bonus Point
How to craft an attractive lead magnet to grow your email list?
Create Value
First and foremost, to create an attractive lead magnet focus on delivering high-value content. Nowadays, more than ever before there's much more new content coming out daily that directly or indirectly competes against you. The last thing here you want to do is create low-quality content that immediately sinks to the bottom within hours.
In addition, don't forget that only creating high-value content is not enough these days and it's important how do you present it. Therefore, try to put some extra time into crafting a pretty and attractive-looking piece, that would be hard to resist and everyone would be willing to share.
Lastly, don't worry if you don't have design skills, because various tools can help you. Use Canva to craft pretty lead magnets or if you need more help to create a custom design, hire a designer on Fiverr.
Solve a Problem
Moreover, it's not enough to create a pretty piece that attracts your audience. Hence, make sure that your lead magnet, solves a problem your visitors are facing right now.
Are your customers struggling to grow their email lists? Or they don't know what are the best tools to speed up the list growth process?
Write or create a video explaining how to solve this problem. And integrate it within your email list growth strategy to exchange for their contacts.
Easy to Access
Likewise, make your opt-in forms easily accessible and try not to overcomplicate the process.
The last thing your customer wants is to spend hours of their valuable time filling in the sheets. Or waiting hours for their confirmation letter with the promised content.
On the other hand, be transparent and if you ask customers only for their name and email address, stick to that and don't ask their date of birth or other irrelevant information.
Make it quick and short, and there will always be time to collect other information you need during the leads nurturing process.
Conclusion
To summarize, growing your email lists is a challenging and time-consuming process, that requires great strategy, execution, and everyday consistency. Though it cannot be ignored and it's a very valuable asset to your business that isn't controlled by any giant media algorithms and it's completely yours.
Each day there come thousands of different new content in various industries and niches. Therefore it's important to be creative and deliver high-value content using your lead magnets. It's no surprise that there's a saying popularized by Rand Fishkin from Moz that you need to deliver 10X higher quality content than your competition to successfully grow your community.
Pick something that works best for your business and stick to it. For instance, if you're the owner of a small pastry business, maybe it's the best idea to create video content of you making tasty donuts. Rather than writing long and boring blog posts.
Growing your email list manually is possible, though it can be quite a tedious and time-consuming process. Therefore consider using industry-standard tools such as OptinMonster, OptiMonk, or ThriveLeads that will help you to speed up the process.
Lastly, it doesn't really matter what strategy you'll choose or what tools you'll use. Be sure to deliver a high-value content that solves current customer's problem and it's easy to access.
If you wish to learn more and dig slightly deeper in email marketing, check out this great read by Magnus Unemyr on "Mastering Online Marketing: Create Business Success". Where the author shares email list-building techniques and shows the bigger picture of how it all comes together to your business marketing strategy.
How do your grow your email list and which is your favorite leads magnet technique?