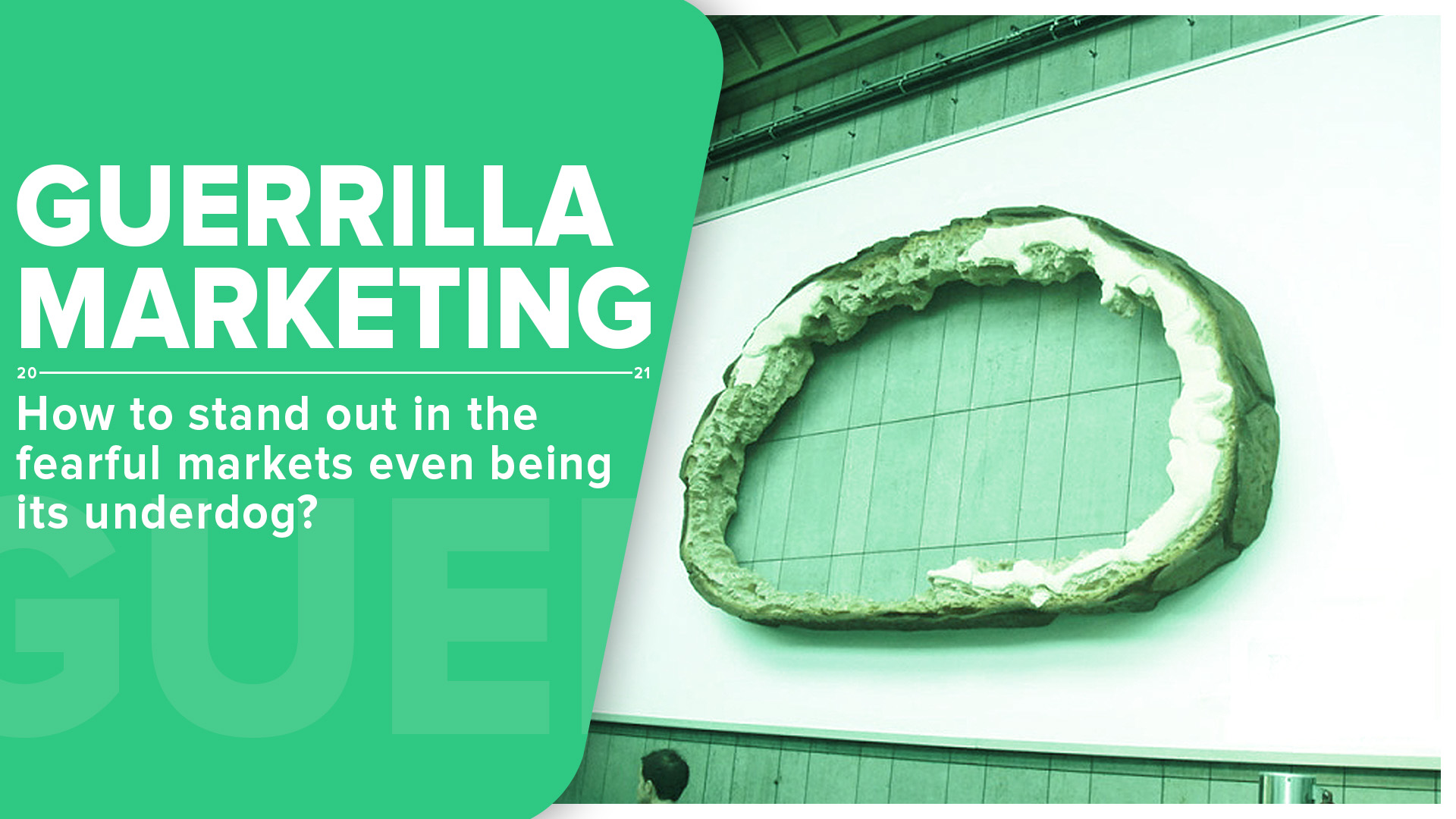 I'm pretty sure that most of you have heard of guerrilla warfare term, though how many of you know about guerrilla marketing and how it can help your business to grow? Well, it's one of those marketing techniques which is ten times easier to show rather than to explain.
In today's blog post, we'll share how to launch a successful guerrilla marketing campaign, what different types of it exist, and share 3 successful campaigns which gone viral. And I'm pretty sure that once you'll understand its concept you'll remember one or two campaigns that made you feel good and left an impact even up to today. Now without further a due let's just dive into understanding its concepts.
What is a Guerrilla Marketing?
Guerilla marketing in the business world could be described as the tactics used to create an element of surprise through original ways to sell your products or services. 
Generally speaking, guerrilla marketing is way different than traditional marketing and it heavily relies on untraditional and unconventional ways how to reach your audience in a more personal way. These tactics are normally low-cost, don't require a massive marketing budget and it's perfect for small businesses or start-ups aiming to go viral and spread their company mission across the internet.
One of the key elements to crafting a successful marketing campaign is team creativity, the ability to quickly adapt and innovate.  Since it's not needed to have a huge marketing budget that would allow going live on mainstream channels, such as TV, that's why the team's creativity plays a crucial role here to find original ways how to stand out and create buzz around the internet.
Guerilla Marketing History
As this name already suggests, guerrilla marketing comes from the origins of guerrilla warfare. The following tactics were known for their concepts to fight against your enemy having smaller resources. And the element of surprise plays a huge role in succeeding and defeating your enemies.
Guerrilla marketing was first time mentioned by Jay Conrad Levinson back in the 1984 book "Guerrilla Marketing". Since then this concept became popular and has been used across the industry to craft memorable campaigns. The key goal of it is to create buzz and sell your products using untraditional ways. Going viral plays a huge role in its success, though the audience is the one who decides that.
7 Different Guerilla Marketing Types
Today there are around 7 different sub-categories of guerrilla marketing. Each of them has its own benefits and downsides which we'll cover in the following paragraphs.
Ambient Marketing
Ambient marketing, better known as the environment marketing technique, is used to promote a company's products in outdoor places. Choosing a busy place is an important factor in its success. Advertisements are usually placed right outside the cities. Objects such as bus shelters, benches, and pedestrian crossings could be used as part of the experience.
One of the Nestle campaigns is a great example of successfully using ambient marketing. During the KIT KAT campaign, they've transformed the majority of city benches into chocolate-looking bars. Which later attracted huge media attention and gone viral within several days of its launch.
Ambush Marketing
Ambush marketing is used when a brand tries to hijack part of the event organized by a different company. During it, their main goal is to steal the audience's attention in order to sell their products. The biggest problem here is that this company isn't part of the organizers and doesn't sponsor the event in any way. That's why it might be dangerous for big and well-established brands to use this technique. And it could cause troubles to their brand reputation or lead to having legal issues in the future.
Despite that, there are lots of great examples of its use, and one of them is the Pringles Wimbledon Championship campaign back in 2009. Without actually participating in the event they've created limited-edition chips, which looked similar to the tennis ball storage. Throughout the event, they gave away around 24,000 tubes of Pringles to all the participants. It generated a huge buzz across the internet and was recalled as one of the most successful uses of ambush marketing.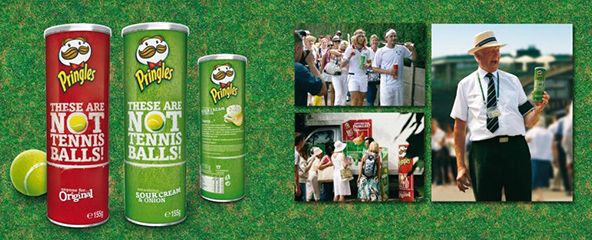 Experiential Marketing
Experiential guerrilla marketing consists of all types of interactive campaigns, activities, and experiences found in daily environments. In order for this technique to work, the audience has to be part of the immersed experience.
Vodafone 4G faster campaign is a perfect example of this. They've transformed a massive elevator into a slide to show that there are always ways how to achieve something faster. This way they cleverly demonstrated a powerful 4G network and showed that everything is possible with a drop of creativity.
Pop-up Retailing
The following marketing technique is usually used across the retail industry. The best example of it is during the busy holiday season. When the market demands rise and retail stores would temporarily extend their property to match the needs.
After this period ends, these stores would shrink back to normal operating sizes. If pop-up retailing is used together with ambush, or experiential marketing techniques it could be a very powerful tool.
Street Marketing
Street guerrilla marketing is used to look for creative ways how to blend marketing campaigns within the environments. The campaigns must be executed outdoors, bringing all the street elements and their surroundings as part of the experience.
In order to get the full potential of its use, it's important to pick busy traffic locations. Places such as the subway or city downtown areas are great examples since they generate massive people traffics throughout the day.
One of the best examples was done by the Sprite campaign and their installation of a massive outdoor shower. You might ask why it's so special to place another shower next to a beach? Well, it's not that common to see a huge shower that closely looks like a huge soda machine. After all, it did its job and generated massive attention from the people at the beach that day. And I'm pretty sure that after taking shower under one of these soda machines, next time you'll become thirsty, the only thing in your mind will be buying one of those Sprite cans.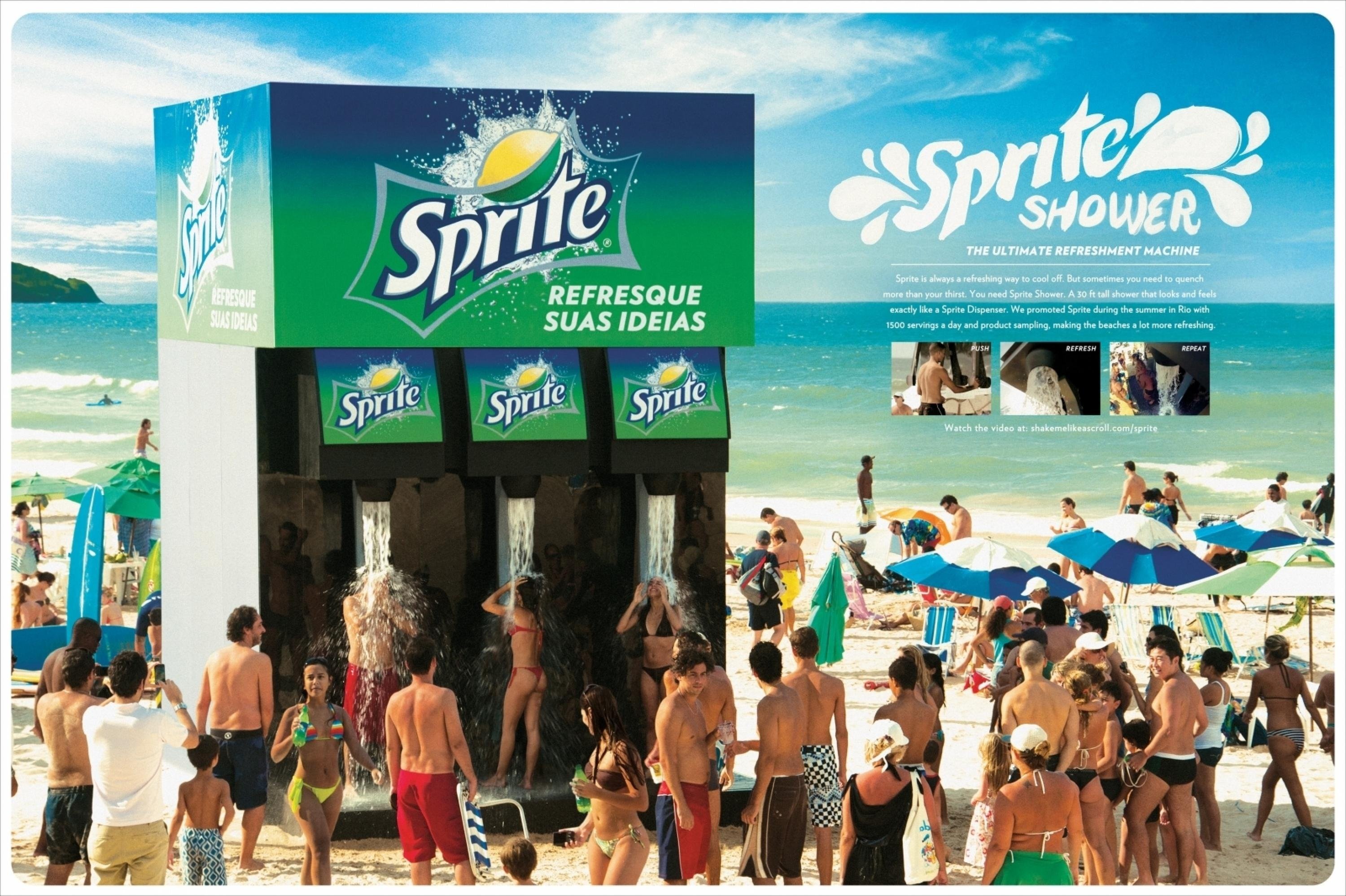 Stealth Marketing
The following technique is used when the company promotes its products to the audience, without them being aware of it. The best examples of it are product placement in TV, media, cinema, and other entertainment forms such as gaming. Hiring a social media influencer to write a post about your product could be part of this technique too.
Though companies have to be very cautious using it. The latest regulations from the Federal Trade Commission have highly forbidden the use of advertisement without its disclosure. And ignoring it could potentially negatively affect your brand reputation, cause legal issues and result in fines.
A great example of its use could be seen when one of the Starbucks cups has appeared in the popular TV show. The coffee cup has by accident appeared in one of the Game of Thrones episodes. After it was noticed it generate a huge buzz and the story was picked up by the biggest media publishers. Lastly, it has been said that this misplaced cup could be worthed around $2 billion for Starbucks in free publicity.
Viral Marketing
Last, but not least is viral marketing, where the key goal is to create as much buzz as it's possible. The key components of its success depend on time and how fast it can spread across the internet.
On the other hand, word of mouth is a key ingredient for its success to go viral. That's why the creative team has to be very original and come up with an idea that hasn't been done before.
The only problem with using it is that you're not the one who decides if it'll go viral or not. Your customers are, and you'll never be guaranteed when it'll be the next Dollar Shave Club advertisement.
According to the INC article, the following campaign became a supernova-viral advertisement within a short time. And it reached around 12.000 orders in less than 72 hours!

3 Successful Guerrilla Marketing Campaigns to Inspire you
1. Get them off your Dog!
When first time I saw this, I thought "Oh no, someone help this dog to get rid of these flies". Only after some time I've realized that all of this was fake and it was just part of the illusion.
Frontline, manufacturers of flies and tick prevention products have figured out how to successfully use guerrilla marketing. Using one of the environmental marketing techniques they've to launched this amazing marketing campaign in a busy public square. Their marketing team has creatively used the technique and covered the mall ground floor with a dog photo. At first glance, it looked like he was trying to get rid of these flies himself. Though he didn't have any of them and using optical illusion tricks from different floors people walking across the picture looked like flies attacking him.
Takeaway: for your next marketing campaign try to think of how you could make people involuntarily interact with your brand. And deliver your brand message through mouth-to-mouth advertising without spending a single penny.
2. Biggest Underpants in the New York City Streets?
GoldToe, an underwear manufacturer has looked for creative ways how to raise brand awareness and originally promote their products. Their creative team looked for original ways how it could be achieved and used one of the guerrilla marketing techniques.
They've launched a marketing campaign where they've put underwear products on a well-known statue across the streets of New York City. Among them was one of the most famous bronze Charging Bull statues right in the center of the financial district.
Without a doubt, the story became a massive hit and has been picked up by major newsletters. Since it was one of the busiest streets in New York City, tourists helped to promote the story and go viral within hours.
Takeaway: you don't have to spend a huge amount of marketing budget to create viral campaigns. Where even the silliest and simplest ideas eventually might become a huge hit. Even the ones such as putting large underwear pants on a big bronze bull statue in the busiest New York City streets.
3. Coca-Cola Happiness Vending Machine
Lastly, it would be a shame if we wouldn't mention this brand in the entire blog post. Which put so much passion, effort, and huge marketing resources to deliver happiness and spread the brand message around the globe.
Coca-Cola is one of the most valuable brands at this moment around the globe. They believe that community is one of the fundamental brand building blocks and invest huge resources in cultivating it. The majority of their marketing campaigns are very well executed and bring value and joy to their users.
Back in 2010, they've launched the marketing campaign "Happiness Machine". They've placed hundreds of fake vending machines across the country with a person inside of them. When someone orders something from it he gets twice more drinks, pizza, flowers, or even a huge sandwich right out of it. And their delivery of happiness through food using guerrilla marketing only shows how advanced and sophisticated is their marketing team. All in all this campaign was a huge success and generated a massive buzz across the internet for several weeks.
Takeaway: next time you work on the marketing campaign, carefully listen to your community's needs. In the end, they're the ones who buy your product or service.
Bonus Point
Pros & Cons of Using Guerrilla Marketing
Despite that guerrilla marketing is a better fit for smaller businesses, today we've learned that it could be used by big and well-established brands too. The marketing team's creativity plays a huge role in its success to deliver something outstanding and memorable.
The biggest benefit of use is low marketing costs, where it doesn't cost that much as playing TV advertisements. Next to that, your campaigns have a chance to go viral, though they've to be original, creative, and fresh. That's why the creativity of your team plays a huge role here and it's one of the key success factors.
On the other hand, it's important to mention that there are some downsides to using guerrilla marketing too. Companies have to be extra careful using it because it might potentially raise ethical and legal problems. Some marketing campaigns could be slightly shady and cost brand unwanted troubles, rather than promoting it. Lastly, it's not easy to find creative and innovative people who will execute the campaign on its best level. Otherwise, it'll be just another flop in the industry.
Conclusion
Despite that guerrilla marketing is quite an old concept, yet it's still very powerful and commonly used across the industry. Also, it's a great way to originally promote your brand, stand out, and cut through all this advertising noise.
It's is a perfect fit for small businesses, because it doesn't need huge marketing resources to create something meaningful and impactful. Though the only limit is your team's creativity and ability to innovate.
Depending on different situations you can choose between 7 different guerrilla marketing techniques. Each of them has its own pros and cons and can help you to create something unique in different situations.
Lastly, seeing from the last 3 examples, guerrilla marketing is such a powerful tool to create something long-lasting and meaningful. If done correctly it'll be remembered and talked about by people for years. Though it's important to weigh in your business reputation before launching a campaign. Double-check your marketing briefings, that there wouldn't be any chances to damage your brand reputation or cause any unwanted legal issues.
Are you going to use guerrilla marketing techniques to grow your brand? How will you do that?